Does Joe Biden have an Al Franken problem? In an article published yesterday by former Democratic nominee for Nevada lieutenant governor Lucy Flores has accused former Vice-President Joe Biden of smelling her hair before planting a "big slow kiss" on her head at a 2014 event.
Flores recounts her experience with Joe Biden in a first-person essay for The Cut. The then-35-years-old Flores says she raced to a November 1 campaign rally with unwashed hair – spraying some "dry shampoo" in, only to have Biden creep up from behind and 'do his thing.'
As I was taking deep breaths and preparing myself to make my case to the crowd, I felt two hands on my shoulders. I froze. "Why is the vice-president of the United States touching me?"
I felt him get closer to me from behind. He leaned further in and inhaled my hair. I was mortified. I thought to myself, "I didn't wash my hair today and the vice-president of the United States is smelling it. And also, what in the actual fuck? Why is the vice-president of the United States smelling my hair?" He proceeded to plant a big slow kiss on the back of my head. My brain couldn't process what was happening. I was embarrassed. I was shocked. I was confused. There is a Spanish saying, "tragame tierra," it means, "earth, swallow me whole." I couldn't move and I couldn't say anything. I wanted nothing more than to get Biden away from me. My name was called and I was never happier to get on stage in front of an audience. –The Cut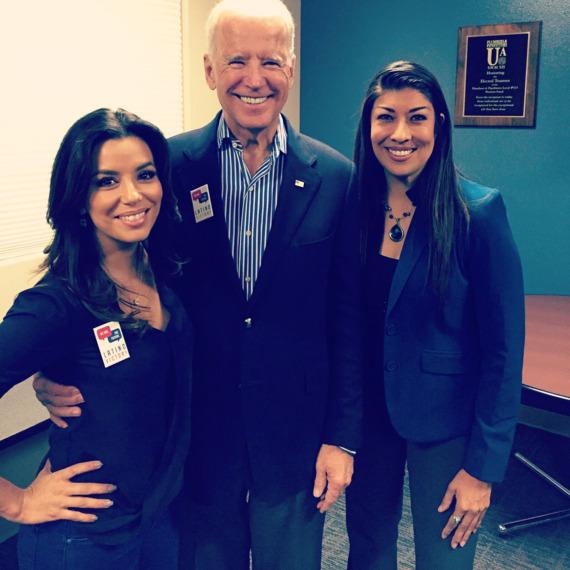 Of course – he did appear to take a long, unsolicited sniff of Eva Longoria's hair at the same event.
Everyone realizes Joe Biden publicly sniffed Eva Longoria's hair at the same fundraiser, right? pic.twitter.com/T2BrT4dCbr

— Law, Politics, & Football (@IReadAboutStuff) March 29, 2019
As reported by VOX, Joe Biden has a long history of touching women inappropriately and while the media has given the likable Biden a pass for years, it certainly won't in 2020. 
Flores notes in her article how after some time had passed, "pictures started to surface of Vice-President Biden getting uncomfortably close with women and young girls."
A Biden spokesman said on Friday that the former Vice President doesn't remember the alleged 2014 incident, but please watch the following video and you decide. Creepy or much ado about nothing?
Commentary by The Iranian
Would you feel comfortable having Uncle Joe Biden babysit your kids?
Mood: ?