Rep. Anna Eskamani is an Iranian American that had run for Florida House of Representatives District 47 and won by an overwhelming 14 points margin. She turned the State House seat from red to blue. With this win, she made history by becoming the first Iranian American to hold public office in Florida. I remember seeing the pictures from her speech that day. Her team of volunteers thankful with their hands together and Anna beaming at the microphone. I noticed she was wearing a necklace of one of the best-known symbols of Iran – Farvahar Ahura Mazda (Guardian Angel) the Zoroastrian Ancient Persian Symbol that symbolizes good thoughts, good words and good deeds.
Anna won despite the negative ads, mailers and social media trolls. They focused on her work at Planned Parenthood and tried to tie her identity as an Iranian American to terrorism and used adjectives like "extreme" and "radical." Her opponent's team even pulled words she had used at events and rallies and created ads that called her extremely vulgar and wrong for Central Florida. She fought back with an opinion piece called Anna Eskamani: Yes, I am a woman running for office, and yes, I curse. I loved this part so much I had to include it below:
"Running for office takes being yourself. It takes remembering where you come from and who you are. It takes grit and grace. It takes asking for guidance, but also trusting your gut. The recent attacks that I have faced are insignificant when compared to the attacks faced by hardworking Florida families each and every day. These personal attacks mean nothing when I reflect upon the importance of protecting public education and our environment. In fact, it's hard not to swear when I think about Florida politicians never expanding Medicaid, a decision that has left nearly 800,000 people in our state without access to health care."
Now I see why she has been referred to as a Persian Warrior Princess Eskamani. I interviewed her in October of last year and was so impressed by her drive and passion. Like many of you, I've been following Anna on her social media and love the energy she brings to her work. She is on this amazing journey and through social media, she is taking her followers with her. She is constantly thanking her voters for trusting her to be their voice in Florida House. She shares her email anna.eskamani@myfloridahouse.gov and lets everyone know that they can always email her if they need anything. She also provides updates on Medium.com.
I decided to re-connect with her for a follow-up interview. I asked her if she was feeling embraced or if there was push back from her colleagues and she shared that for many, she is the first Iranian American they have ever met and also a Democrat replacing a Republican. She said both sides were still getting to know each other.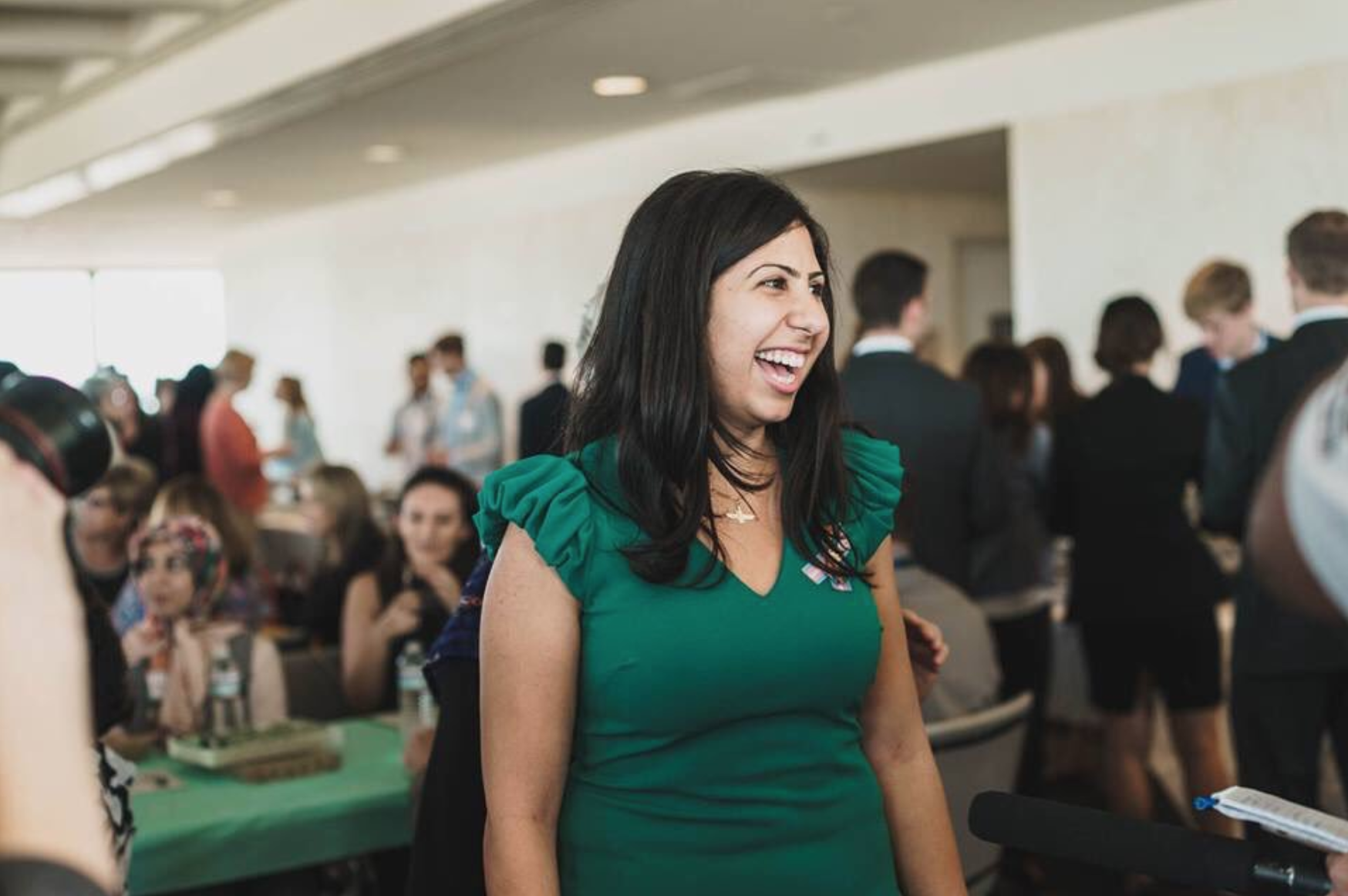 She decorated her office with a Persian carpet and Persian artwork painted by her mom. Anna was very close to her mom and lost her to Cancer. She shared how she hosted the first Norooz Party in Florida's Capital. When I asked how people responded to the Iranian festivities, she said, "people started sharing their experiences and connections to the Iranian culture." Anna was determined to attend as many Norooz parties across the state as she could and posted her experiences on her social media. She jumped over fire, showed off her dance skills and used hashtags like #PartyLikeAPersian and #NoroozMobarak #Iranian. Her followers shared how appreciative they were that she could demonstrate how diversity makes their state and nation the best it can be.
Anna has been very busy. She co-sponsored HB 49 Dignity for Incarcerated Women. She filed HR 8061 designating April as Sexual Assault Awareness month and co-sponsored HB 941 to keep firearms out of domestic abusers' hands. She proposed a five-year cap on future sales breaks to address Florida's regressive sales tax system and is fighting for affordable housing funds. She is working to even the playing field for all publicly funded schools by proposing an amendment that requires private and public schools to play by the same rules. She co-sponsored HB 1291 to require Florida to craft a plan of 100% renewable energy by 2050. Teachers in Florida rank #46 on an annual report of average teacher salaries – Anna wants to move away from bonus programs and is pushing towards permanent salary increases.
Capitol welcome signs are ready for Thursday!

Who is ready to party like a Persian?!

RSVP Here: https://t.co/7UiXWeXiqH#HappyNorooz

???? pic.twitter.com/6DCvVTr2vy

— Rep. Anna V. Eskamani ? (@AnnaForFlorida) March 26, 2019
My five year old self celebrating the Persian New Year has made it to the pages of @USATODAY.

My mom took this photo— I wish she was here to see this is.

Happy Norooz y'all. ?#HappyNorooz #NoroozMobarak pic.twitter.com/w76P1Ys6FO

— Rep. Anna V. Eskamani ? (@AnnaForFlorida) March 27, 2019
I asked if she had heard from Iranian Americans after she won. She said that she gets a lot of tweets from people asking for help with challenges brought on by the travel ban so they do their best to help connect each person to their Senator or member of Congress.
We are having important courageous conversations on tough subjects. That's what makes our nation so great.
When I asked her what she thought about all the negativity surrounding the new members of Congress, she answered, "we are having important courageous conversations on tough subjects. That's what makes our nation so great. As legislators, we try to separate the bill to the person. We may have a disagreement on a bill but later try to give each other a hug. I try to have empathy for my colleagues, practice forgiveness and value the person even if I don't agree with their ideas."
I asked Anna about the challenges she has faced so far, and she mentioned that it's been a test of her resilience. "On one hand I am an advocate for the people I represent and on the other hand, it is a slow-moving government. It's invigorating and exhausting at the same time, she said, "I am not discouraged…I'm inspired by it."
I'm remembering a quote by Reza Aslan – "the only thing that takes away fear is relationships…always been and will always be the most effective way of combatting bigotry and racism." Anna is creating relationships with the people in her district and with those following her on social media. She is comfortable in her own skin and I think it makes other people comfortable to be who they are. I'm also remembering a quote by Congressman Harley Rouda – "If you are not at the table, you are on the menu." I'm sure those in Florida and every Iranian American is glad Representative Anna Eskamani is at the table. You can follow Rep. Anna on Twitter @AnnaForFlorida
###
Another busy week in Tallahassee, and heading home for a weekend of events in #HD47!

Can't wait to see you, Orlando. ?

Remember folks: you can always email us at anna.eskamani@myfloridahouse.gov if you need anything at all! #OnwardWithAnna pic.twitter.com/Ozi9Axux0k

— Rep. Anna V. Eskamani ? (@AnnaForFlorida) April 11, 2019
State Government 101
We talked about the federal government in another article. I want to take this opportunity to do a quick review of State Government.
Like the federal government, State governments also consist of three branches: executive, legislative, and judicial. The head of the federal executive branch is the President of the United States who signs federal legislation into law. The head of each state-level executive branch is the Governor of the State and signs state bills into law.  Other state-level elected officials include lieutenant governor, secretary of state, treasurer or comptroller, and attorney general.
The State legislature is made up of two chambers: a smaller upper chamber (the Senate) and a larger lower chamber (called the House of Representatives). Individual states can create legislation to fill in what they believe to be gaps or shortcomings in the laws that govern the country as those laws apply to their state.
State and local governments are in charge of things like:
police departments
libraries
schools
parking tickets
raising state employee wages – ex. teachers
licenses and regulations surrounding your vehicle – ex. setting speed limits.
state taxes
regulating ownership of personal property -ex. real estate and motor vehicles
health and welfare
guaranteeing law and order
maintaining a court system to administer justice
maintaining state roads
conducting elections and overseeing voting
provide sanitation services
regulate traffic
maintain local streets
regulate zoning
Get to know the elected officials in your city and state. Many cities have local official or unofficial organizations that work at the neighborhood level. This can be a great way to start getting involved.