In its third year, Chefs Without Borders, Tasting Isfahan was hosted by Tom Douglas' Palace Ballroom on Friday night in downtown Seattle. Organized in collaboration with Seattle-Isfahan Sister Cities Advocacy (SISCA), a 500-member not-for-profit 501(c)(3) organization, this food diplomacy event was designed as part of SISCA's mission to "reverse decades of hostility between the United States and Iran by building human relationships between Seattle and citizens of Isfahan, thereby emphasizing common humanity and shared aspirations, and supporting efforts to find practical roads away from confrontation and war."
And as we entered the lobby of the Palace Ballroom it was obvious that human connection and mutual understanding and respect were the priority over politics. A smiling greeter welcomed guests and offered to store their coats, a group of attendees posed for a photo as a video projection of Iranian art splashed across the wall. The event was just beginning but the drinks designed by the Douglas Team and wines procured from Maysara Winery flowed as guests mingled and old friends reconnected.
Fred Noland, the founder of SISCA, took a moment to share his thoughts on the spirit of the event. "This is a people to people operation not government to government. We are operating under the belief that when people lead, the governments will eventually follow." Noland shared the story of how SISCA came into existence—his trip to Isfahan with his wife and his outreach to friends, colleagues and Iranian-Americans committed to community and citizen diplomacy, grew into an active organization, funded in great part by this annual food diplomacy dinner.
"The Iranian people love the United States," Noland said. "When we told Isfahan officials about our idea to build a sister city relationship between Seattle and Isfahan, they were very excited about the possibility." Noland smiled and spoke clearly as the twang of Mohammad Adineh's tar punctuated our conversation.
The classical Iranian music filled the spacious dining hall as wait staff and volunteers put the finishing touches on the many large circular tables lit by dark metal spheres of soft lights hung from the high ceiling. Dishes were set, menus placed and the table centerpieces adjusted so that they sat perfectly atop their throne of flowers, greenery, and reflective glass. Two porcelain love birds—one blue, the other white, nuzzled each other and bejeweled boxes were surrounded by candles. Their beauty didn't go unnoticed by guests who placed their bids on the centerpieces.
"This year's theme is peace," Leyla Farange, a SISCA volunteer, said. "That's why we have the love birds, they represent peace." Leyla talked about how all parts of the centerpieces came directly from Isfahan and how they auction them off as a fundraiser for SISCA. "It's really difficult to import anything from Iran and we have very little budget but I think we do a good job with so little."
The music shifted slightly, the strumming of the tar continued but this time accompanied by gentle drumming. Guests flowed out of the lobby and into the dining hall. They took their seats while still conversing, laughing and sipping wine. Life-sized projections of Iranian art streamed across wide monitors—the exquisite details more obvious—wooden, metal, ceramic, glass artwork all expertly crafted by artists living in Iran. Some guests took a peek at the menu examining what delicious meal was ahead of them. They were not to be disappointed as Chefs Alex Chan and Dezi Bonow are known for their culinary talents. Beef Kabob Wrapped in Eggplant, Butternut Squash and Kashk Spread, and Paradise Custard were just a few of the delectable pickings available. But the night's dishes weren't randomly selected but chosen by Chefs Najmieh Batmanglij in the US and Abbas Moradi of Cheraghan Restaurant in Iran. Every year, since SISCA was founded, an Iranian menu is prepared for Seattle chefs to cook at the Chefs Without Borders event while a selection of Pacific Northwest recipes are sent to Iran to be prepared by Iranian chefs. The Iranian event is videotaped weeks before and streamed on monitors as Seattle guests mingle and dine. And in this way, two peoples—Iranians and Americans—can break bread together.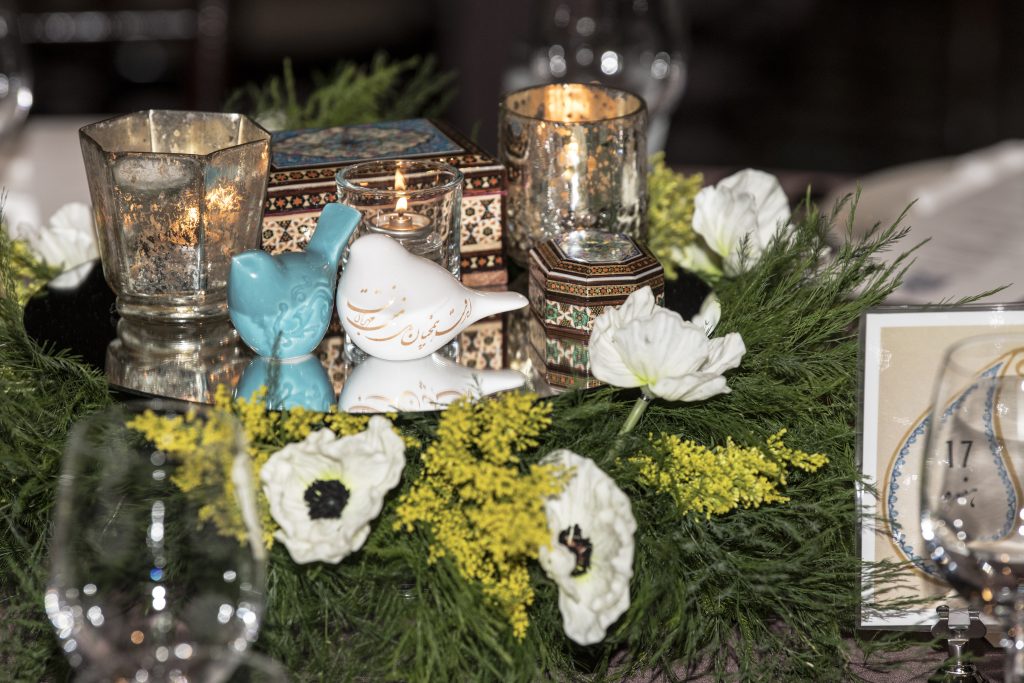 "Cooking together really touches the human spirit," said Jerilyn Brusseau, the founder of PeaceTrees Vietnam and Cinnabon. "This is such an important way to build bridges between people and countries especially when there has been difficulty in the past."
As the final guests got settled into their seats, volunteers wearing velvety vests and fezzes embroidered with colorful flowers collected raffle tickets. Wait staff served the food, the music was lowered, and Cathia Geller, SISCA Board President, welcomed everyone and gave a brief overview of the event—guests had been painstakingly paired with others they didn't know because SISCA and Chefs Without Borders strives to give everyone an opportunity to connect with new people and build new bridges between individuals and communities. The guests were a mix of 60% non-Iranians to 40% from the Iranian diaspora.
"I really believe in the Chefs Without Borders concept of sharing our cuisine, gathering around the table, working out our differences and sharing commonalities," Chef Tom Douglas said as he prepared to go on stage. "A lot of good things can happen when you cook a meal together."
Guests finished off their appetizers and listened intently as various speakers shared their motivations for being involved with SISCA and the Chefs Without Borders event. Fred Noland shared SISCA's origin story, Tom Douglas spoke of the complexity of Iranian food. Moe Momtazi of Maysara Winery, which donated their charity "Immigrant" pinot for guests to taste at each table, spoke of their family's difficult immigrant journey, their commitment to clean food and responsible environmental stewardship, and of how they are striving to give back to their new homeland and help other immigrants struggling to reach safety, freedom and the American Dream. Others shared their stories and hopes for how the Isfahan-Seattle Sister City relationship might heal old wounds and bring communities closer. The speakers were just a sampling of Seattle leaders who are deeply invested in culinary diplomacy but the guest list was also a who's who of Seattle's most prominent leaders—Bill Neukom, the founder of World Justice Project, Thoa Nguyen the owner of Chinoise and winner of the Food Network's "Beat Bobby Flay", Seattle Police Chief Carmen Best, Washington State Solicitor General Noah Purcell, and many more, too numerous to list.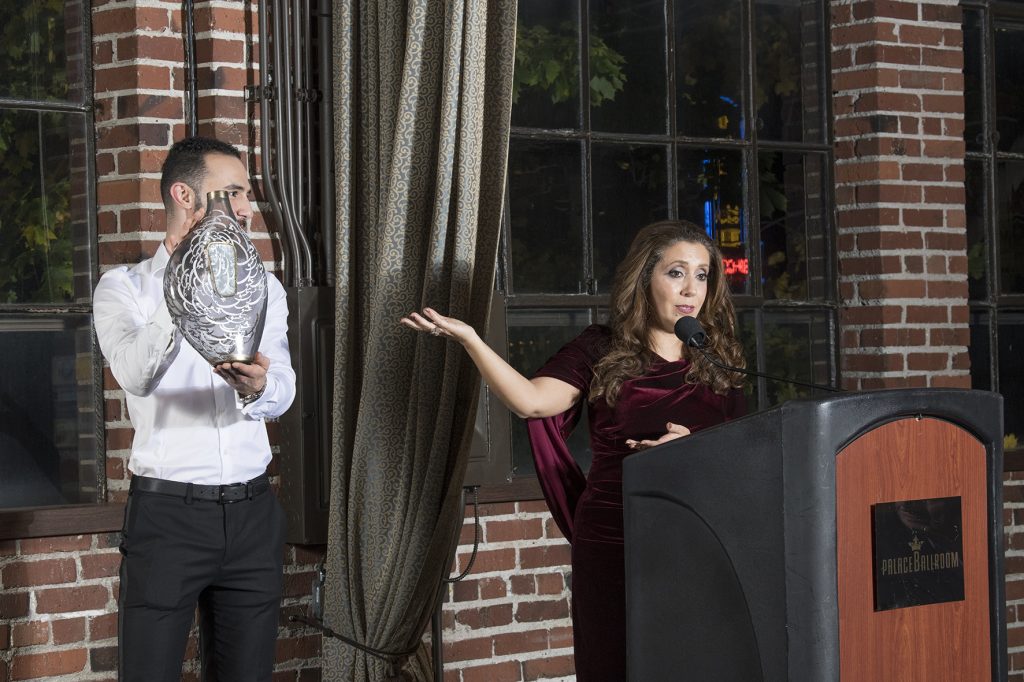 As the evening winded down, Bill Neukom took a moment to share with us what he learned about SISCA while attending the Chefs Without Borders event. "I learned that this organization is vital and well managed and seems to be making progress with this citizen diplomacy between this country and Iran."
William Donnelly, a member of SISCA, said that if he could see one outcome from the Chefs Without Borders event he would want to see the Seattle City Council accept SISCA as a Sister City organization and recognize the work they are doing to improve the relationship between the United States and Iran.
***
Photo Gallery (photo credits: Homayoun Amiryeganeh)