---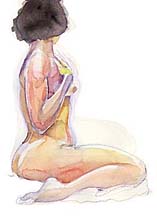 Simply sublime
July 1997
The Iranian
Iranshid Ghadimi sells flowers in Berkeley, California. But she's going back to art school this Fall for a very good reason: her watercolor nudes are simply sublime.
Ghadimi was born in Tehran in 1960. She studied fine arts at Tehran University from 1976 to 1980 and in 1985 she emigrated to the U.S.
When I recently saw some of her work at a friend's house, I was captivated by her amazing use of soft colors to convey a gentle, moving sensuality.
Click on the images to see Ghadimi's brilliant work: