---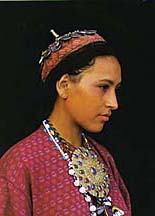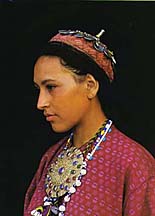 A Garkaz girl with traditional contume and ornaments.
Turkman Sahra. (Copyright Nassrollah Kasraian)

Envy
July 1997
The Iranian
In recent years there has been a growing interest in ethnic groups, like the Kurds; Qashqaies; Baluchis, Bakhtiaris, Lurs, Arabs, Turkumans, etc.
In "Bashu, the little stranger", director Bahram Beizaie chose an adorable Arab boy as his hero. Mohsen Makhmalbaf's most recent film, "Gabbeh", is a Qashqaie love story. And Abbas Kiarostami's celebrated trilogy -- "Where's the friend's house", "Life and nothing more" and "Through the olive trees" -- takes place in the rural areas of Gilan.
There are more CDs of folk music from every corner of the country than at any time in the past. The annual tribal fair in Tehran attracts huge crowds. And several glossy picture books of tribal life have been published specifically for well-to-do urbanites.
The only time ethnic groups got attention was when somebody had a new joke to tell. So why has tribal/rural life suddenly become attractive even chic? Could it be the stability and tranquility of their communities? Simple values? Rich traditions without evangelical, extremist overtones?
The revolution didn't take place in pastures but in the streets. Most major cities suffered casualties from Iraqi missile attacks during the war. Politicians have won and lost in bloody, divisive urban battles. Vice squads only roam in the cities. And the constant rhetoric of the media primarily rains on the urban population.
Thus our new found appreciation, respect and envy for rural and tribal life, which Nassrollah Kasraian has captured beautifully in his photo collection, "The Turkmans of Iran" (Kasraian, Tehran, 1991). Here are sample images from the book:
INDEX
---
Web Site Design by: Multimedia Internet Services, Inc. Send your Comments to: jj@iranian.com.
Copyright © 1997 Abadan Publishing Co. All Rights Reserved. May not be duplicated or distributed in any form.