---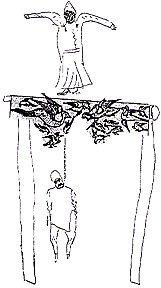 "In love with the scarecrow" by
Ardeshir Mohassess. Copyright Mage Publishers
No cure
Hossein B. Zadeh
August 1997
The Iranian
This morning (Aug 13, 1997 -- Associated Press report: "Iran hangs 'Tehran Vampire'"), Gholamreza Khoshrou Kouran Kordieh was publicly whipped and hanged in Tehran in front of thousands of spectators who clapped and cheered as they watched this public display of collective sadism and cruel justice.
Kordieh may have been guilty or not of the horrible crimes he was accused of (something we would never know, knowing the notoriously flawed nature of the Iranian justice system), but from his words quoted in newspapers and his televised "confessions" he showed all the hallmarks of a sick person (even as a killer).
The actual/other killer(s) may be still at large - and millions of girls and women would feel no safer going out on the streets or getting into unmarked cabs in Tehran or elsewhere.
Society may (at best) have gotten itself rid of a sick person - but NOT of a sickness -- a sickness best displayed by a government bent on using torture, death and execution as means of asserting authority (and popularity), a semi-official tabloid press feeding on public anxiety, hysteria and prejudice (and in the process, fuelling widespread racist anti-Afghani sentiments too), and a public which enjoys the spectre of a person being tortured and hanged.
A sick person is down - but in the process, a society bares its collective sickness to the world.
I feel ashamed as an Iranian.
---
Hossein B. Zadeh is a member of the Steering Committee of the Iranian Human Rights Working Group. Related article by Zadeh: No ifs or buts
---

---
Web Site Design by: Multimedia Internet Services, Inc. Send your Comments to: jj@iranian.com. Copyright © 1997 Abadan Publishing Co. All Rights Reserved. May not be duplicated or distributed in any form.