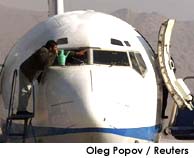 Velcome to Air Afghanistan
Relax and shut off your tassbeehz
By Bruce Bahmani
January 31, 2002
The Iranian
On behaff of Kapitan Hormoz and heez cozin Mahmood, vee voold like to velcome de tree of you to ouer felight to Kandahar.
Az soon az Sabz-Ali feeneeshez keleening de veendo, and geeves us back ouer aftabeh, vee vill see if de Amerikans vill let us take off.
Enshallah, if vee do, vee should be in Kandahar sometime around noon. Also de meal in de kabin vill be noon az vell!
So relax, heh! heh! and shut off your tassbeehz, so vee kan see if vee kan remember how diss' 'teeng vorks!