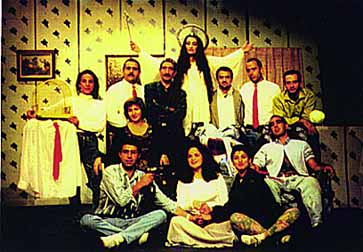 In the play "Ta'atr dar Ta'atr" (Theater in Theater) written and directed by Farhad Ayeesh (1993):

Standing from right: Payam Farahi, Ali Dadgar, Farid Nabavi,
Bernadette Rad, Farhad Ayeesh, Mansour Taeed, Nina Sharif.
Sitting from right: Roham Sheikhani, Maedeh Tahmasebi,
Sana Nouri, Mojdeh Molavi, Saeed Asgari.
---

---
Last Updated: 1-Dec-96
---
Web Site Design by: Multimedia Internet Services, Inc. Send your Comments to: jj@iranian.com.
Copyright © 1996 Abadan Publishing Co. All Rights Reserved. May not be duplicated or distributed in any form.