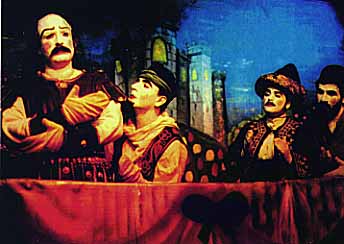 In the play "Aroosak-ha" (Puppets) by Bahram Beyzaie, directed by Sepideh Koosha (1990).

From left: Kiyoumars Hakim, Farid Nabavi, Sana Nouri, (?).
---

---
Last Updated: 1-Dec-96
---
Web Site Design by: Multimedia Internet Services, Inc. Send your Comments to: jj@iranian.com.
Copyright © 1996 Abadan Publishing Co. All Rights Reserved. May not be duplicated or distributed in any form.