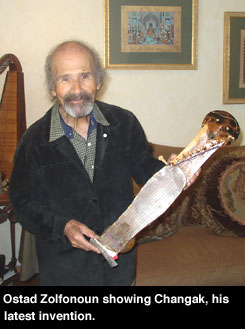 Nostalgic musical journey
Ostad Zolfonoun's judicious stewardship of classical Iranian music is worthy of our recognition and appreciation
MP3s >>> (Mavalian) (Harbi) (Bova Aya) Video clips >>> (1) (2) (3) (4) (5)
Interview by Hamid Karimi and Mehdi Safipour
December 27, 2006
iranian.com
What is so spectacular about a man and his music, a musician and his instrument? And what does that say about our cultural heritage and sense of identity as a music loving people? Despite the alluring power of pop culture, classical Iranian music is enjoying a renaissance among Iranian natives and Diasporas alike and that provided the right impetus for a discussion with the adroit Mahmoud Zolfonoun.
Ostad Zolfonoun's judicious stewardship of classical Iranian music is worthy of our recognition and appreciation. Confident, authentic and resolute, he is a man of small stature, yet towering presence & large vision –a living legend and master musician hailing from Iran and presently living in Northern California.
As it turns out, he is not only a good musician but also has a soulful, soothing voice; a man of many talents, keen sense of present and delightful company. The late composer and conductor Rouhollah Khaleghi said it best in his encyclopedia of traditional Persian music, "Mahmoud's contributions as violinist, composer, teacher and academic are of great significance, cementing his prominence in the history of traditional Persian music." -- Hamid Karimi
Tell us how it all started?
Well, my father Habib left Abadeh for Isfahan as a young man to study Islam with aim of becoming a preacher. His older brother, Rahmat, was his caretaker on behest of their father who was a deeply religious man. By a twist of fate, he happened to visit Jolfa, the home of many Armenians in the region, and became fascinated by the sights and sounds of Persian music instruments. When he walked past Yahya's workshop, the famous tar maker, his fate was sealed.
To avoid the scorn of his family and fellow students, Habib secretly visited Yahya's shop to learn the art of making instruments. But soon the secret was exposed and prompted Rahmat who was dismayed at Habib's new zeal and forbidden passion to seek the interference of their father who was a prayer leader in Abadeh. But shortly after, their father died and Habib was back in Abadeh putting his newly found skills to test. It was just a matter of time for the rest of the family to find out and raise hell but Habib was unrelenting. He physically divided his portion of inherited property by erecting a brick wall and defiantly continued to practice music. He had learnt to make tar and play it by pure improvisation. Eventually my father returned to Isfahan to polish his skills –a feat that he accomplished quickly.
How did you discover your musical passion?
Well, I used to secretly listen to my father tar playing and also observed him hold classes for nomadic Gashghayee students. He taught me tar when I was 8 years old; this was in 1928. For my father, teaching music in the conservative city of Abadeh was a provocative profession but he had powerful supporters such as Iraj-Mirza who was the governor at the time. The instrument that fascinated me was Kamanche but I quickly discovered violin and fell in love with it; I even tried making one. I suppose this amounted to the discovery that music is a connecting medium and the choice of instruments is a secondary factor in the grand scheme of things. Anyway, I tried applying the tar playing techniques to violin and even played rhythms like Kereshme which was invented by Shamse Razi. Finally, I realized that to advance I needed to learn musical notes and follow a structured program. I moved to Shiraz (remember this is late1930s) and learned musical notes from a clarinet teacher who played in an orchestra. I also quickly found out that more serious musicians were Jewish since the majority of decent Muslims were avoiding the profession. Shiraz, as the cultural hub of Iran's south was a bustling city with frequent public musical performances those years.
Who taught you to play violin?
When I was in Shiraz, Mr. Vaziritabar, my first violin teacher told me to go to Tehran and seek Rubik Gregorian to learn technical violin. Of course when I came to Tehran, I located him and became a serious student. He gave me western classical music lessons to practice and decided that I was more passionate about western than Iranian music. But those days they only taught people to play solo, that was the only available method. Eventually under his tutelage, I managed to do well.
Tell us about the Tehran experience
On Kooche Khandan near Lalezar, Iran's music office was located. I played violin there and one day Mr. Moosa Maroofee who was managing Iran's music programs on radio listened to my play and called Mr. Khaleghi and commented "this Shirazi kid has a way with violin" I was given the job of playing solo twice a week. At that time, I only played Iranian music. Slowly a number of us formed Anjomane Mooseeghee Melli whose orchestra conductor was Mr. Roohaloh Khaleghi. Between 1942 and 1948, Anjoman was flourishing. Ghavamosaltaneh was a member and his membership helped create mindshare and support. Varasteh, shah's French teacher was also involved. There were two membership types, founding members and committed members. We held concerts regularly till 1948 and slowly when we formed Honarestan Melli Mooseeghee. A lot of great musicians of the time participated at Honarestan but I need to mention that western music had no place there. Maroofee and Zarinpanjeh taught tar while Abolhasan Saba and I were violin teachers. I played in Mr. Alinaghi Vaziri's style. I now teach the Suzuki method which is more methodical whereas Vaziri's method was disjointed and inconsistent. At Honarestan there was a mandatory test to determine if a student candidate had the basic understanding of rhythm in music or not. Once accepted, they would spend 6 years there (high school alternate degree) with a curriculum that included other subjects such as math, physics and history. Khaleghi was always present and practiced strong oversight and mentoring program to make sure students were successful. Eventually I decided to write my own text books and five volumes were published that are still taught.
Were you involved with the Golha program?
I was involved from beginning to end with Mr. Peernia. After he passed away, Mr. Hooshang Ebtehaj (aka Sayeh) took over the program.
What are the difficulties of making progress in Iranian music and how can we overcome them?
Acceptance is the biggest challenge. Acceptance has to be widespread and communitywide, otherwise success will be limited. I have a female student who recently visited Iran and held several sessions with 30 other musicians. Families seem to be more accepting of this fact and that has created an opening which will be the start of a major shift in our approach to encouraging music learning and playing. In my recent visit to Iran, I had to deal with a technocrat who was in charge of issuing permits for instrument export. Our conversation led to the future of Iranian music and we both agreed that at the current pace, pretty soon a genius will surface and will cause a revolution in Iranian music. I am sure of that. Of course music has many forms and types and all of them are essential –be it marching music or children's music. I am not at all surprised of the popularity of pop music; given the state of awareness and exposure, it is expected.
Can music be perverted? Is there such a thing as unacceptable or forbidden music?
Music is innocent but people are not. It is about how we use the music. I do not believe in existence of forbidden music anywhere, anytime.
Would you share an unusual experience that you had as a musician in Iran?
I have been invited to events by Reza Shah and his son Muhammad Reza Shah on several occasions. I always wondered why they invited me especially when I was really young and there were many talented and more experienced musicians around. Once Reza Shah asked me to play violin in the presence of Qhavam family and I remember vividly that the same time, a magician was performing; later his son invited me to perform before his wife Foozieh and the Namazi family in Shiraz. I had brought my entire class to that event to perform. We were unaware that the organizers had planed a theatrical play as well. It was almost like a sideshow, many things happening at the same time. I have concluded that I posed no security risk and that is why I was invited.
What is the biggest problem facing Iranian music today?
Narrow-mindedness and intolerance must go away for the music to flourish. That is all that ails the state of our music today; otherwise it will grow and improve on its own.
What is your take on the role of so called westernization before the revolution of 1979 on classical Iranian music? Did it play a negative or positive role?
Overall it was positive because we imported elements of western style organization and systemic training such as the creation of Anjoman Mooseeghee. No matter how much we borrow from other types of music, Iranian music is in our blood and we always revert back to our historic and cultural roots. A shepherd who has never witnessed a concert or attended a live session can hum Abooata without even knowing it.
I read the review of an Iranian movie by an American critic who wished there would be an end to musical silence in Iranian cinema, the only missing piece in the cinematic aesthetics. Your views?
This is true. I concur.
Do you think music can be a good cultural ambassador for Iran and Iranians given the reality that because of political events we have assumed a defensive posture in the west?
Not only music, but also other cultural elements like poetry can play a major role. Internet can also bridge the gaps, for example, an Iranian youth can listen to a piece of western music and fuse it with the Iranian music. But this is not exclusive to Iran; it is relevant to all geographies such as India.
Speaking of India, please tell us about the connection between Sitar and Tar or Setar. I was reading about Chartar which had four strings and was the mother of Greek instrument Kithara or the Spanish quitarra.
The interactions among civilizations make these influences both inevitable and unavoidable but these do not necessarily result in replacing the original context. Case in point, during Sassanid dynasty, king Bahram invited 400 Indian musicians to perform at his palace. In Iranian music Radif, we have Rocke Hendi, Rocke Keshmir and Rocke Abdullah which perhaps have Indian roots. Therefore the influences of Indian music on the development of Iranian music and vice versa are undeniable. This is kind of analogous to cooking recipes when sometimes nearby villages argue about the exact amount of spices that would make a dish great and there is never consensus and should not be. I applaud that. Language remains the strongest bond and as long as we communicate through Persian, the roots and character of Iranian music will remain untouched.
Why most attendees at Ravi Shankar's concerts in the west are western people and there are few westerners attending Iranian concerts?
Because Iranian music is not well known yet and language has been part of that barrier. When we sufficiently educate the public in the west, they will be interested and curious about Iranian music.
At one point you were in the process of publishing a large collection of Iranian folk music. What happened?
When I came to Tehran, I started collecting a lot of folk music. I brought my collection to US but one day, they all burnt in an accident. Even among the ruins of my burnt-down house, I searched for any remnants of papers to salvage. The insurance adjustor who witnessed my futile attempt, out of sympathy offered me a big mansion in the nearby town of Monte Serrano with acres of trees and a stable.[Chuckle] I asked for a smaller place and in the process of prospecting, I noticed a piano on the second floor of one of available places. That sealed a deal and we stayed there for a year till the new house was built. I have restarted the effort by collecting and itemizing a new, 3-volume ready-to-print series. These volumes represent 3000 songs from south and west of Iran including Lorestan, Bakhtiari & Khuzestan provinces. My next goal is to focus on Kerman, Turkmen, Sistan, Baluch, Shiraz, Bushehr & the rest of Iran. The fonts in these books are hand-written because the special feeling they evoke cannot be represented by using computerized fonts. Eventually, I plan to publish another book on Sufi, Zoor-Khaneh and other interesting types of music.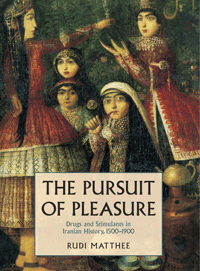 Were you teaching at the university when this happened?
Yes, I taught Iranian music at Stanford University.
How about your children? How did they develop their music prowess?
They are all so virtuosic and can hold their own; I have only encouraged and fostered their interest. Ramin follows Morteza Mahjoobi in playing Piano which is similar to Santoor in style. Amin wanted to play guitar at first but later decided to focus on an Iranian instrument and selected setar. Amir also plays setar and sings in style of Banaan. Omid, after finishing high school, remade Pink Floy'd Wall (Berlin) and did it so well that it became obvious his future was in music. He went to a local college first and finished his studies at USC. He plays piano and guitar. When Omid was a child, he played Cello. Once during a performance, people thought a cello was walking onto stage by itself since the player was so tiny no one could see him. [Laughter] These days he mostly works on western classical music and is teaching high school musical productions.
You have been a sort of traveling musician. How did you end up here?
In 1944 right after the end of WWII, I moved to Tehran. Then in the 1970s, I came to US and landed in San Diego and finally I settled in Northern California.
You have specialized in building instruments. Tell us about it.
I learned carpentry in a young age; in the beginning it used to take me a long time to complete a project but slowly I became more adept. Changak is the last instrument I have built and as its name suggests, it is like a small Chang.
Do you still teach regularly?
Yes. Some of my students have worked on interesting projects- some academic and some on special interests like Dervish music. Once a year my students and I get together and perform. Of course I consider myself a teenage student. [Laughter] Comment
MP3s >>> (Mavalian) (Harbi) (Bova Aya) Video clips >>> (1) (2) (3) (4) (5)