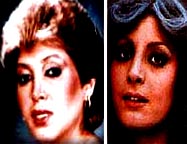 Golhaa
Golden oldies

By Ali Sabaii
Updated February 15, 2001
The Iranian

Listen: "Khodaa Negahdaar" (Persian text)
Vocals: Mahasti
Lyrics: Shahen Henaneh
Composer & Arrangement: Sadegh Nojouki

This is one of my favorite Mahasti songs, produced in LA early 1980's. Sadegh Nojouki, best known for his "Khatereh 1-9 Albums", was famous for the elaborate melodies he composed in the studio using large "live" orchestras and string sections; the year was 1983 and Nojouki productions had not yet changed over to the digitally synthesized sounds they would later become. "Khodaa Negahdaar" was released in 1984 onto a cassette called "Zengedi" by Taraneh Records, with songs by Mahasti and her (older) sister Hayedeh.

***

Listen: "Tekye bar Baad" (Persian text)
Vocals: Marjaan
Lyrics
Composer, Arangement: Unknown


One of Marjan's last songs, recorded for the soundtrack of the movie with the same name. A forgetteble movie; sad lyrics, but the beautiful flute, conga, and guitar solos give it that cool, authentic, late 70s soft rock feel.

Marjaan was an actress and starred in over 20 Iranian movies from the late 1960's to 1979. She usually played in lead female roles opposite Behrouz Vossoughi and Fardin.

Marjaan transitioned into the music industry in 1976 and released two albums and a few hit singles. She appeared on the 1976-78 nightly Rangarang music video show and as a guest on Farokhzad's Mikhak Noghreyi program. Marjaan's "Tekye bar Baad" was among her final recordings in 1978.

Her singing career was cut short in 1979 and there were rumors that she was jailed briefly for her involvement in the anti-revolutionary "Shabaneh" albums, in which Marjaan sang "Ey Vatan, ey shekasteh, to shekasti..."

The 5-part Shabaneh albums were produced underground by Alireza Meybodi and Masoud Amini with singers Kourosh Yaghmaie, Maziyar, Moien, Marjaan, Nasreen and many others until 1980 when all pop music was vigorously banned.

Meybodi, Amini, and Moien escaped to Los Angeles, but many of the singers who remained in Iran (Maziyar, for his "Iran, Iran, saram ruyeh tanneh man, nabaasheh gar keh bigaaneh besheh hamvataneh man") were arrested, jailed, and banned from singing or leaving Iran.

It wasn't until the early 1990s, under the more moderate Minister of Culture & Islamic Guidance Mohammad Khatami, that soft pop music was revived. Kourosh Yaghmaie, Maziyar, and Farhad were among the old-regime male pop singers that were given permission to sing and produced new music.

And it seems like the successful return Googoosh has inspired others. An article I read in LA's Javanan magazine last year reported that Marjaan has also obtained permission to leave Iran and she is currently working on a series of comeback concerts.

***

I was bored one day and kinda feeling a little down. I'd always like the words to this song by Sattar's "Safar naameh" (lyrics: Ardalan Sarfaraz composer: Farid Zoland; arrangement: Andranik). So I just played around on photoshop and montaged the lyrics. Recorded the song from tape onto RealAudio, so anyone can listen and read the sher at the same time.

This is one of Sattar's rare "forgotten" songs, which he himself told me was the first studio song he recorded in LA after the 1979 revolution. He said he chose this song to express his bitter journey into exile (Safarnameh means travelogue).

The song was released in 1983 onto a joint compilation cassette/album called "Behtarin", with songs by Hayedeh, H. Aghili, Sattar, and Simin Ghanem.

"Safarnameh" is one of Sattar's few songs which has not yet been released on a CD. You may be able to contact Caltex Records www.caltexrecords.com to obtain a copy of the cassette.

***

Also here's Haydeh's "Tanhaa baa golhaa".

I have a vast old/rare Iranian tape collection. Many nice songs, some nostalgic, all beautiful arrangements and lyrics. I will send more every week or so.