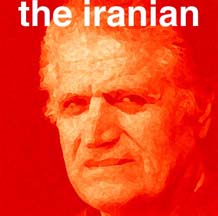 Ahmad Pejman
Updated August 28, 2003
The Iranian
Ahmad Pejman describes his latest recording, "Memories of Tomrrow" (Tehran, Hermes Records. Sample tracks), as a "sad picture of our complicated modern life." He adds, "I tried to express the conflict between love and hate, war and peace, and good and evil with a simple and continuous melodic theme while sudden changes occur during the whole work."
The album is inspired by Pejman's soundtracks for Bahman Farmanara's recent films, Smell of Camphor and Fragrance of Jasmin and House on the Water, as well as Hassan Haghighi's Journey to Tomorrow.
***
Born in 1937 (Lar, Iran), Pejman took violin lessons with Heshmat Sanjari and theory of composition with Hossein Nasehi. He continued his studies in composition with Alfred Uhl, Thomas Christian David & Hans Jelineck in Vienna Conservatory of Music.
Pejman later attended the Columbia University in New York City and studied with Buelant Arel, Vladimir Usachevsky and Jack Beesen Pejman's first compositions were pieces for Saba Chamber Orchestra (under the direction of Hossein Dehlavi).
Pejman has composed music for numerous films, including Baran (Majid Majidi), Prince Ehtejab (Bahman Farmanara), Tall shadow of Wind (Bahman Farmanara), Blue Scarf (Rakhshan Bani-Etemad), as well as The Warriors of Tangestan and Samak Ayyar TV series. Original music for The Crossroads of Civilizations, produced by Sir David Frost, is also among his works.
Some of his essential compositions are Rhapsody for Symphony Orchestra (performed by the Vienna Radio Symphony Orchestra), Sonata for Viola & Piano (published by Doblinger Publishing Co.), Parsian Overture, Nonet (a piece for chamber orchestra commissioned by the soloists of the Vienna Radio Symphony Orchestra) and The Light (ballet in two acts, performed by the soloists of Berlin Ballet Company).
Others include Rustic Festival (opera in one act written for the inauguration of the Rudaki Hall), The Hero of Sahand (opera in two acts), Samandar (musical theatre), Seven Hurdles of Rostam (electronic music combined with live instruments), Hemasseh (performed by the London National Philharmonics, conducted by the composer), Ayyaran (ballet music for Persian instruments, performed by Faramarz Payvar's Ensemble), and Tribute to Khorramshahr (cantata for solo, choir and orchestra). -- Hermes Records
Album: "Memories of Tomorrow"
* Tomorrow
* All over again
* Confrontation
* Dawn
* Miss you
***
Album: "Seven Hurdles of Rostam"
Battle of Rostam and the Dragon (excerpt)
Rostam and the Birds (excerpt)
The slaying of Deev-e-sefid
Atash (Celebration)
***
Album: "Mirage"
1 Khalseh/Ecstasy
2 Omid/Hope
3 Neyestaan/Reed bed
4 Ofogh/Horizon
5 Bandar/Harbour
6 Bouraan/Squall
7 Dar azal/Eternity
8 Saraab/Mirage
9 Ghoroub/Sunset
10 Nahaayat/End
* Send this page to your friends
Pejman's "Memories of Tomorrow" CD here
Other Pejman CDs here