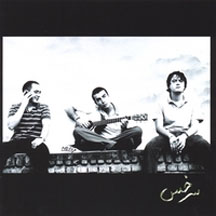 Sarakhs
Updated 11, 2007
iranian.com
This is the second album from SARAKHS called "Mordad 85" which was recorded live in "Aftab e Alamtab" studio and released on July 7th 2007. Visit sarakhs-music.com.
LATEST
* Bakhtak
* Beh man doroogh begoo
* Ghahveh Tork
* To Khiaboon
* Beh Yadeh To
Peter: Bass guitar
Behzad: Guitars and vocals
Yuri: Drums
The first album "Az Khak" (see tracks below) was recorded in BAM studio during 1999-2000 but never released officially. Single tracks like "Mordab" and "Vasvase" are well known from this album. "Az Khak" is currently being remastered and will be released for the first time in late 2007.
*** *** ***
* Bishtar az Hamisheh
* Mordab
* Az Khod Jodaa
* Vasvaseh

Sarakhs will be playing in Farabi Hall
in Daneshagh Honar on 3rd of Esfand (1381)
in the UMC music festival.
Purchase Persian CDs here