Shahrzad
Music tracks
Updated November 28, 2003
The Iranian
Shahrzad Sepanlou was born in Tehran. Her childhood was marked by her parents' passion for poetry and the arts and the frequent gatherings of writers and artists at her home helped attract her to the world of music and poetry. As a child she also experienced first-hand the revolution and the subsequent Iran-Iraq war which left her with a sense of sadness mixed with a deep appreciation for the "good days".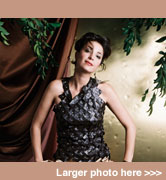 At the age of 5, though she could not write, Shahrzad began composing poetry which her mother wrote for her in a notebook. Since she also had a natural gift for singing and acting, she began to entertain friends and relatives with small performances and shows. In the mid eighties, she left Iran along with her parents (her father soon returned to Iran) and after living inEurope for a year, arrived in California where she went to Junior High.
Her adolescent years in America were a time of adjustment and struggle to overcome cultural barriers and that was when she began to seriously pursue the arts as a means of giving her the self-confidence and motivation to overcome difficulties of a new life in America.
While continually active in the performing arts during high school and college years, Shahrzad's professional career began soon after she graduated from UCLA. It was then that, quite by chance, she met Shahbal Shabpareh and Farzin Farhadi who had teamed up to create the female band "Silhouette".

She was selected as one of the trio and began her singing career with the release of the album "Aab, Atash va Khaak". After 2 years of successful collaboration and touring the States, Shahrzad left the band to pursue a solo career.
During her time off, she met her husband who encouraged her to resume her music career and with his help they formed a small music company called "1001 Productions" and produced her first solo album "Ghesseye Maa" in 2000 (Sample tracks). With the release of "Ghesseye Maa" which contains hits such as "Mirdamad" and "Eteraz", Shahrzad formed a loyal and growing fan base and gained the respect of the music community.
Soon after, she was contacted by a Los Angeles Times staff writer who wanted to write an article on Shahrzad, her life and her music. The 5-page piece was published in the Los Angeles Times magazine in 2001 containing detailed account of her personal and professional life.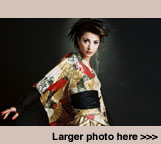 In addition, in 2002 she received further acknowledgment from the artistic community when she was featured in the Volume "Iranian Elite Women's Achievement" published in Iran by the well-known artist Pouran Farrokhzad, (Forough Farrokhzad's sister).
After the success of "Our Story", Shahrzad began to work on her second album. The new album "1001 Nights" which is now released worldwide by Avang Music Company contains songs that have a mixture of middle-eastern and western sounds, utilizing traditional eastern instruments with Pop and R&B rhythms.
Shahrzad has once again teamed up with Farzin Farhadi who serves as the song-writer/producer on this album and has collaborated with several renowned lyricists; one of the songs on this album contains lyrics by revered poet Forough Farrokhzad. Shahrzad herself has written the English lyrics to a song on the album.
"1001 Nights" has further established Shahrzad as a true storyteller who, through her songs, tells tales of love and life. -- Press release
Also see "For better days" >>>
More info shahrzadmusic.com >>>
Tracks from the "1001 Nights" CD
Purchase Shahrzad CDs here
***
July 21, 2000
The Iranian
Seen her somewhere before? Shahrzad Sepanlou was one-third of the original Silhouettt trio. In her debut solo album, Ghesseye maa, Shahrzad leaves no doubt that she can hold her own.
It is rare to see so much talent and work going into the production of Iranian music in the U.S. This is no I-want-to-be-famous-no-matter-how-bad-I-am production seen so often in the Iranian community in Los Angeles. On the contrary, Shahrzad's songs are sensitive and intelligent. And the production is highly professional.
From the debut Ghesseye maa CD
* Mesl-e har ruz
* Eteraaz
* Khalvat
* Qalb-e man
* Bee to
* Send this page to your friends
Purchase Shahrzad CDs here