May 26, 2005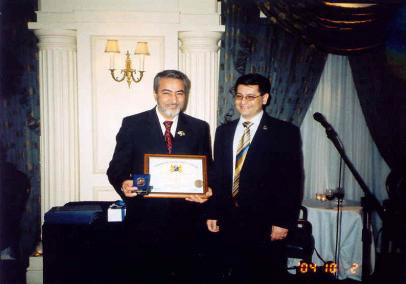 Sattar with Dr. Dorbayani
Further to the announcement of September 2004 regarding the Honorary Doctorate Award in Music to Sattar the legendary Persian singer by the International Further Studies Institute - IFSI, here is the story: The Belgravia Room of Berkeley Hotel in London perhaps had never seen such an emotion and overwhelming atmosphere in itself before.
At the VIP reception of the Magic of Persia's event, Sattar and Prof. Dorbayani hugged and expressed their pleasure of meeting each other with utmost respect. The chemistry between this great singer and his most loyal fan was so deep that one could easily recognise and see the joy in their eyes from one another's company.
Prof. Dorbayani at the time of conferring the award to Sattar said: "To whom with his voice and music I grew up, fell in love, got married and became complete."
Sattar received his Doctorate Award with grace and his unique humble attitude. He also thanked IFSI for choosing him for such a distinguished award.
Who's your Iranian of the day? Send us photo