Pictory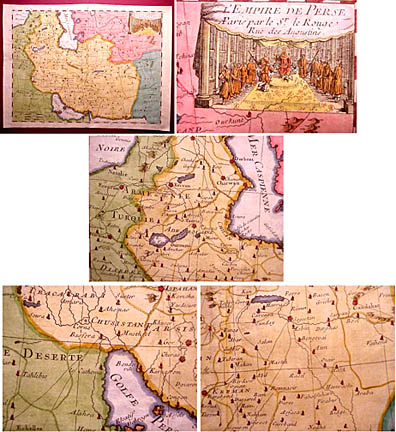 Geography
"L'Empire De Perse" issued 1748, Paris, by Le Rouge. A nicely detailed and suprisingly uncommon mid-18th century map of the region referred to as Persia (larger image). Stretches from Armenia and Turkey across Iraq and Iran, the Caspian Sea, the Persian Gulf ( Yes the Persian Gulf) , over to Petit Tartary and what is called "Mogol India". Includes major rivers, lakes, surrounding islands, political divisions, as well as major cities and seaports. Many important cities are signified by tiny cathedral symbols and these are highlighted in red. With a wonderful large vignette court scene at upper right. In VG+ to near excellent, clean antiquarian condition. Very pleasing visually. Sheet measures 12" W x 8 3/4" H, image measures 10 3/4" W x 7 7/8" H.
More Places

Sent by Darius Kadivar

Email interesting old photos of ordinary people, places, political leaders, activists...
* Send this page to your friends
Index

* Pictory
Latest & archive
Related

* History
Features

* Revolution
Archive

* Nostalgia
Archive


Yesterday's Self
Nostalgia and the Construction of Personal Identity
by Andreea Deciu Ritivoir