---
If you live in Washington D.C., you know there's a new attraction that has as much magnetism as the White House or the Redskins. For your kids at least. It's TechTreK, a futuristic children's computer center in Rockville Pike, Maryland.

Created by Mehrdad Akhavan, a 31-year-old Tehrani, TechTreK is the ultimate cyberland for kids. It offers more than 100 "edutainment" software titles to today's techno-tots whose parents are eager to get them away from pointless but addictive video games.
"The response has been very good," Akhavan said. "We're thinking of expanding to Northern Virginia. Almost every day someone comes in and says he wants to turn TechTreK into a national franchise. Maybe, inshallah."
Some 4,000 kids and parents crammed in during the first two days when the center opened three months ago. With the opening of schools, there are special deals for field trips and special classes to improve science skills with entertaining software.
For $6.95 an hour, children bounce around the center's specialized points. "Test it Out" is where the latest software releases are tried out in an area designed like a crash test zone, complete with a giant dummy and bumper guards. At "Go Figure" a variety of math, logic, puzzle and strategy programs are featured next to a large light bulb with a cracking neon tube, made by the same company that created the lighting effects in Star Wars.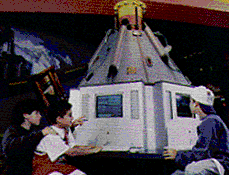 Kids can "Take a Trip" at a cluster of computers in the shape of a time-machine and learn about ancient Persia or life in Antarctica. There are four other zones, appropriately named "Experiment," "Create," "Read Into It," and "Begin to Build." And "TreK Masters" are always standing by to provide help.
While the kids are cruising on the computers, they are a safe distance from mom or dad who have a panoramic view of the center while sipping cappucinno at the Cyber Cafe. But soon they too will be taking a journey into the techno-globe. "We've had a lot of inquiries from parents about online services," said Akhavan, who plans to install computers with Internet access from the cafe.
The idea behind TechTreK is not new. Similar computer centers have opened in major cities, such as Cybersmith in Boston and the Adventure Learning Club in Chicago. What makes TechTreK unique is its focus on younger children rather than teenagers and adults, and the center's hip space-age design, which looks like a cross between the Louvre and Silicon Valley.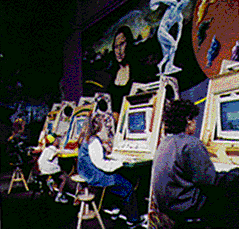 When Akhavan received his MBA from Washington's Georgetown University, he moved to New York to seek a career in investment banking, working for Irving Trust Co. and Bear, Stearns & Co. But his love for computer technology was too strong and in 1992 he came back to Washington where he co-founded Trident Software with Bobby Batmanghelidj and Said Khosrowshahi.
Trident has collaborated with Washington's National Gallery of Art to create Artscreens screen savers. Its first product, described by the New York Times as looking like "it should be on the CEO's computer, if CEOs had computers," features a collection of paintings called "Great Masters." Released in 1993 for Macs and PCs, it sold 60,000 copies in the first year.

A newer version that came out in June is the "Impressionists Collection," including 40 works by Van Gogh, Monet, Renoir, Degas and other masters. In the background, it plays classical music by the likes of Chopin and Debussy. You can check out both products on CompuServe by accessing the Trident Software Inc. section of the Multimedia C Vendor Forum or by typing "Go ARTSCREENS".
Trident's latest project is a virtual museum where users could "stroll" through imaginary halls enjoying works of art with the help of a guide explaining every detail about the objects and artists. The project is in the "conceptual stage" and negotiations are continuing with various museums, Akhavan said.
---
---
---
Send your Comments to: iranian@interport.net. Copyright © 1995 Abadan Publishing Co. All Rights Reserved. May not be duplicated or distributed in any form.