Iranian Events
Mohsen Yeganeh Live In Concert Denmark / Copenhagen
September 9, 2017 @ 8:00 pm

-

September 10, 2017 @ 12:30 am
Event Navigation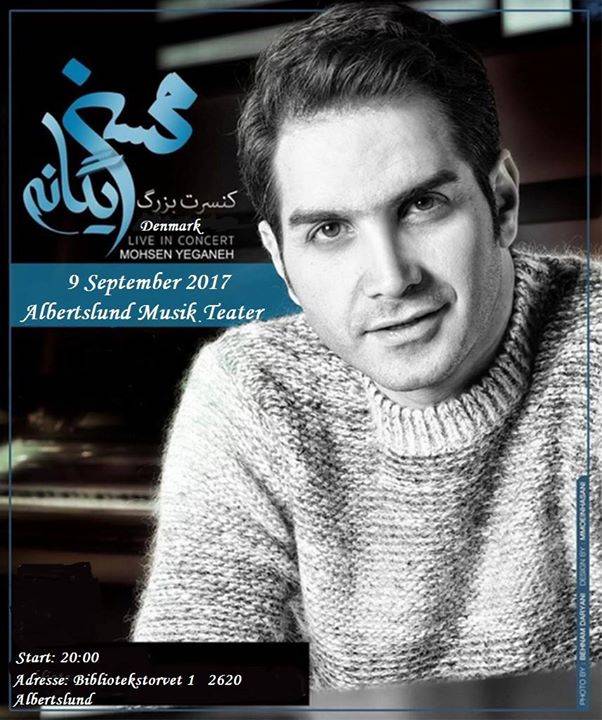 For the first time In Denmark / Copenhagen
********************************************************
Mohsen Yeganeh Born May 13, 1985 in Gonbad-e Qabus is a popular Iranian vocalist, singer and songwriter and musician, Guitarist, Bassist, composer, and arranger. He is one of the most popular singers in Iran and sometimes he is even compared to Shadmehr Aghili since his style is inspired by Shadmehr Aghili based on what he mentioned in an interview.
He has two older sisters and a younger brother. He was a waiver student of industrial engineering. His father was lost in the imposed war and his mother is a university professor. He currently lives in Tehran.
*****************************************************************
Entree:
Billet typer:
Type 1: 600 kr.
Type 2: 500 kr
Type 3: 450 kr
Type 4: 400 kr.
Type 5: 300 kr.
Billet salg starter maj 2017
---

Subscribe to The Iranian newsletter
Sign up for our daily newsletter to get the top news stories delivered to your inbox.
Support The Iranian
The Iranian is an online magazine for those who care deeply about all things Iranian: identity, culture, music, history, politics, literature, and one another. Stories like this are made possible by readers like you.
Please

donate

 or

subscribe

to help fund independent journalism for the Iranian Diaspora.