Iranian Events
Persian Classical Music Performance By Saeed Farajpoory & Mojgan Shajarian (Seattle)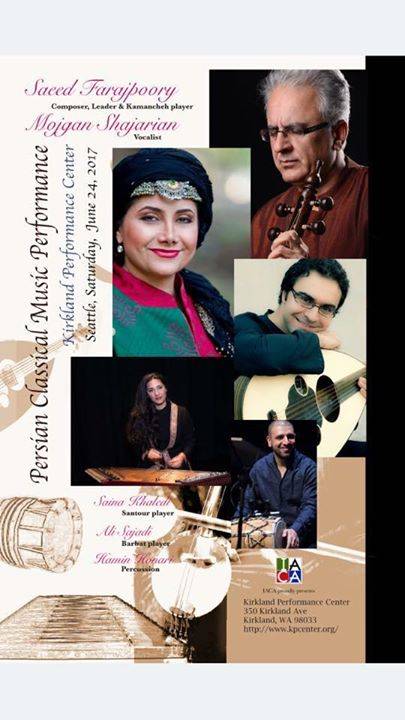 کنسرت موسیقی کلاسیک ایران
سعید فرج پوری آهنگساز و نوازنده چیره دست پرسابقه درعرصه موسیقی کلاسیک ایران با همراهی گروه خود نغمه های عاشقانه ودلنشینی از موسیقی کلاسیک ایرانی، با صدای مژگان شجریان سالن … در شهر سیاتل در تاریخ ۲۴ ژوئن ۲۰۱۷ به اجرا در می آورند.
Saeid Farajpouri, Iranian well known artist together with his group (Melodies of love from Iranian classic music) and Mojgan Shajarian, are performing at Kirkland performance theater June 24th. 2017.
این اجرا شامل دو بخش می باشد:
بخش اول در دستگاه نوا و مایه دشتی  با اشعاری از شاعران نامی ایران، فریدون مشیری، اوهدی مراغه ای، و علی آذرشاهی به آهنگسازی سعید فرجپوری بوده و بخش دوم در دستگاه ماهور می باشد که در آن تصانیفی دلنشینی از هنرمندان معاصر و قدیم ایران به اجرا در خواهد آمد تا یادآور خاطرات آهنگین زیبای روزگاران گذشته ایرانزمین باشد.
اشعار این بخش از شاعران به نامی چون حافظ، باباطاهر، ملک الشعرای بهار و غلامرضا رئیس به آهنگسازی حسن یوسف زمانی، جهانگیر مراد، درویش خان ومحمدرضا شجریان می باشد.
Part One:
Nava Dastgah and Dashti gosheh.
Poets: Fereidoon Moshiri, Ohadi Maraghei and Ali Azarshahi.
Music Producer: Saeid Farajpouri
Part Two:
Mahoor Dasgah with poems from well known Iranian poets as we fly through the history and memorable Iranian melodies.
Poets: Hafez, Baba Taher, Malekolshoara, Gholamreza Raeis
Producers: Hasan YousefZaman, Jahangir Morad, Darvish Khan, MohammadReza Shajarian.
در این اجرا فرمهای مختلف موجود در موسیقی کلاسیک ایرانی همچون فرم پیش درآمد، رنگ، چهارمضراب، ساز و آواز و تصنیف خوانی به اجرا درخواهد آمد. این فرم ها اساس موسیقی کلاسیک ایرانی را شکل می بخشند.
سیر و فرم اجرایی موسیقی کلاسیک ایران از پیش درآمد آغاز شده و معمولا با یک ضربی ادامه پیدا کرده و سپس بصورت آواز و همراهی ساز ادامه می یاید.
In this part various forms of Iranian classical music such as Pish Daramad Form, Chahar Mezrab, SaazoAvaaz and Tasnif will be performed.
This flow and form starts with Pish Daramad, commonly continued with Yek Zarbi followed by Avaaz and Saaz.
آواز فرمیست با ریتم بسیار آزاد و معمولا فی البداهه اجرا می شود و نوازنده یا نوازندگانی جملات خواننده را با فاصله زمانی کوتاهی پاسخ می دهند که به این فرم موسیقی « ساز و آواز » اطلاق می شود. پس از ساز و آواز معمولا تصنیف که فرمیست از پیش ساخته شده دارای ریتم مشخص اجرا می گردد.
در ابتدای بخش اول، مایه و آواز دشتی که از متعلقات دستگاه شوراست اجرا شده و سپس با آوازی در دشتی به دستگاه نوا مدگردی شده و تصنیفی در نوا اجرا می گردد. سپس توسط آوازی در نوا به دشتی بازگشته و با قطعه ای ضربی با حال و هوای محلی گونه به همراهی آواز به پیش باز تصنیفی در دشتی می رود.
در بخش دوم تصانیفی در ماهور به همراه آوازهای کوتاهی در فواصل آنها به اجرا در خواهد آمد.
دستگاه شور به عنوان دستگاه مادر در موسیقی کلاسیک ایران بوده و در دل مردمان این سرزمین جایگاه ویژه ای دارد و دارای ۴ آواز به نام های دشتی، ابوعطا، افشاری و بیات ترک است. اوازهایی که هر یک جانمایه خاص خود را داشته و حال و هوای ویژه خود را دارند.
دستگاه « نوا » از دستگاه های بزرگ موسیقی کلاسیک ایران بشمار می رود و فواصل درجات آن با گام مینور تئوریک در موسیقی کلاسیک اروپایی منطبق بوده است ولی امروزه مقام نوا را مانند متعلقات شور با فواصل مقام شور اجرا می کنند.
دستگاه ماهور از دستگاه های بزرگ موسیقی کلاسیک ایران است ک با گام ماژور درموسیقی کلاسیک اروپایی در بخش هایی منطبق می باشد.
کلیه مضامین اشعار در این اجرا عاشقانه می باشد.
Show/performance ticket price(s)
Tier 1- $65
Tier 2 – $55
Tier 3 – $45
---

Subscribe to The Iranian newsletter
Sign up for our daily newsletter to get the top news stories delivered to your inbox.
Support The Iranian
The Iranian is an online magazine for those who care deeply about all things Iranian: identity, culture, music, history, politics, literature, and one another. Stories like this are made possible by readers like you.
Please

donate

 or

subscribe

to help fund independent journalism for the Iranian Diaspora.