Iranian Events
The Persian Fall Festival (Austin)
September 30, 2017 @ 7:00 pm

-

11:30 pm
Event Navigation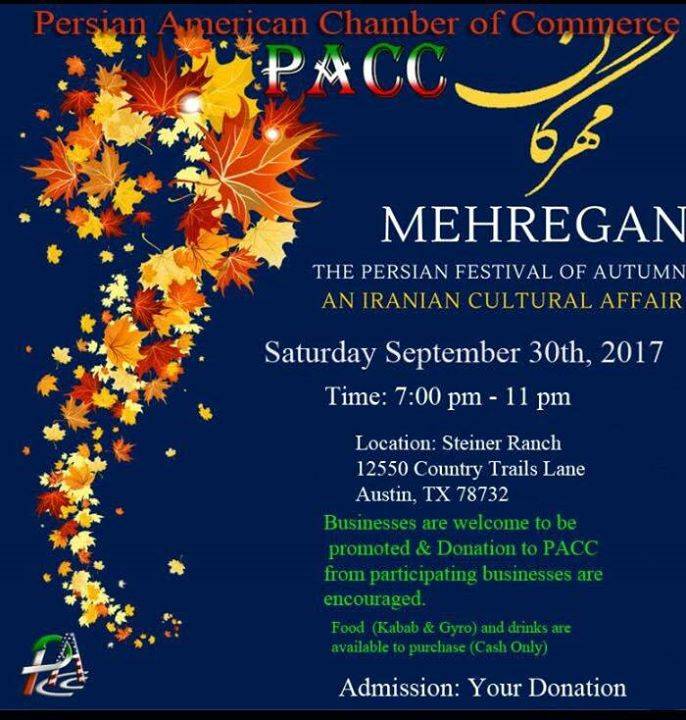 This event is hosted By Persian American Chamber of Commerce.
به روز خجسته سر مهرماه به سر بر نهاد آن کیانی کلاه
بفرمود تا آتش افروختند همه عنبر و زعفران سوختند
پرستیدن مهرگان دین اوست تن آسانی و خوردن آیین اوست
کنون یادگار است از او ماه مهر بکوش و به رنج ایچ منمای چهر
Mehregān (Persian:مهرگان) or Jashn-e-Mehregān is an ancient Iranian autumn festival is dedicated in honor of Mehr, also known as Mithra, the Persian god of Light and Love. It is a celebration of thanksgiving between family and friends, and charity to the poor. So please join us to celebtare our unity among Persian /American in the Austin area.
---

Subscribe to The Iranian newsletter
Sign up for our daily newsletter to get the top news stories delivered to your inbox.
Support The Iranian
The Iranian is an online magazine for those who care deeply about all things Iranian: identity, culture, music, history, politics, literature, and one another. Stories like this are made possible by readers like you.
Please

donate

 or

subscribe

to help fund independent journalism for the Iranian Diaspora.