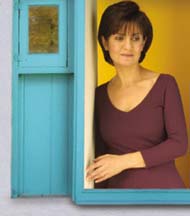 Born and raised in Iran, Mahvash completed her studies in theatre at the Faculty of Dramatic Arts in Tehran, Iran. Her interest in musical theatre took her to England where she completed her post graduate degree in Musical Theatre from Webber Douglas Academy of Dramatic Arts, in London.
After returning to Iran, Mahvash began teaching Acting courses at the Faculty of Dramatic Arts and Faculty of Fine Arts of University of Tehran. Mahvash was offered a series of parts and title roles in various stage and television productions.
Currently, Mahvash is living in San Diego, California. Her dedication and love of theatre ensured continuous activity and participation in theatrical activities in San Diego.
tracks:

Aftab

Safaret BehKheyr
Koocheh

Jane Maryam