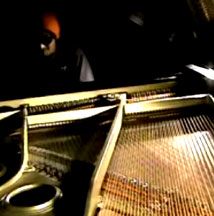 I am not really a musician, or a rapper. I'm in school, but not really a student either. I wanna say I have a band - and I don't. I have been in love and ever since, no matter what, I end every night with two shots of whiskey. I am a Del-Shodeh, I don't know what that exactly means -- but I am it! I have a lot of songs; I do not like to share them with people though. But here is two of them.
The first one, I did the beat with Farez, wrote the shit, and rapped on it. The second one "System," I got the beat through Deev from a homie in England named Entee. Me and Milad (Farez), did production on it and I rap on the whole song -- with Milad on the hook. The song is not complete yet, but I would love to hear everyone's feedback. Deev jan, thank you for all that you have done for me.
I have not been able to do anything creative ever since I heard Mohsen Namjoo about a year and half ago. Hearing his music was a blessing, but unfortunately, it has paralyzed my artistic drive. I will never, ever, never again, come up with another song unless it begins to resemble the honesty and intensity that screams out of Namjoo's burnt chest.
Del-Shodegun
featured Tracks:
tracks:
Feels right
(Video)