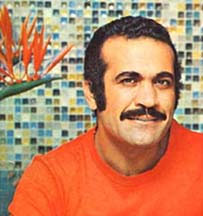 Fereydoun Farrokhzad was one of the greatest entertainers. These tracks include recordings from Farrokhzad's "Jomeh Baazaar" show which aired on Radio Iran in the 1970s. Tracks sent by Azam Nemati, Milad Esfandiary and Anoush Khazeni.
featured Tracks:
Sarbaz
tracks:
Sarbaz
Hamrazmanam
Ania
(Video, for his German wife)
Dele Zaaram
(With Armik)
Dalghak
(Ghassem Gholi)
Aavaazeh Khan
Ania
(Video )
Bahaar
Bee To Hicham
(With Homeyra)
New books of the day
(Radio show, 1970s)
Gol Kard
(With Roohangiz)
Boom bara boom BAM!
Cheshm-e To
Daro va nemikonam
Galoubandak
(2nd version)
Galoubandak
(Radio interview with Tehranis, 1977 )
Ey Sharqi-ye Ghamgin
Harf-e Man
Koocheh
Migorizi
(With Sally, aka Maryam Jalili)
Oumadi
(2)
Oumadi
(With Ramesh)
Shab Bood
Shar-e Man
Tolooe Noor
(Mehrdad Teimouri)
Vaghti Ke Az To Dooram
(With Haydeh)