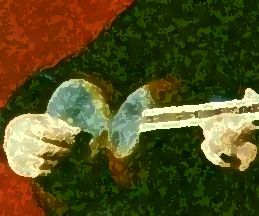 I fell in love with Nasser Masoudi's unique voice as child listening to classical music on a transistor radio, in the countryside with my favorite uncle sitting on the balcony watching the moonlight in the little stream flowing by. Masoudi became an overnight sensation in the mid 1960s with the beautiful song Mosafer (I have been looking for it for 26 years). He continued to sing classical music as well as folk songs from his native Gilan province.  He has recorded some album's after the revolution but they are all Gillaky songs. I was heartbroken when I found out he had performed in a concert in San  Jose (California) and I missed it.
I am very lucky and eternally greatful to Dr. Meshginpoosh for having converted various songs from his private reel tape collections into two CDs so I can enjoy listening to them and share them exclusivelywith this site's visitors.  The beautiful voice accompanied by rare sound of tar solos by two of Iran's Masters ( Farhang Sharif and Mehdi Takestani) are truly rooh navaz. 
Hope the fellow Iranians from the beautiful Gilan province will be happy to see my promise of posting Maoudi's songs fulfilled.
Tar Farhang Sharif: Shour
Santur: Varzandeh
Bayaete Tork: Tar Mehdi Takestani (Doctor Khoshghadam program)
Shour: Tar Farhang Sharif
Segah: Tar Mehdi Takestani
Latest
* Bekoni Nakoni
* Beshoo Beshoo
* Mahboobe Del o Rahmate Jaani
* Dar Deyre Moghan
INDEX
* Banafsheh Gol... (Gilaky)
* Bekoni Nakoni
* Beshoo Beshoo
* Dar Deyre Moghan
* Gol Beerokhe Yaar Khosh Nabaashad
* Hameshab
* KonoonKesahebe
* Mahboobe Del o Rahmate Jaani
* Rahe Bikhatar
* Shakhe Shemshadi
* Yaare Deegarani
Purchase Persian CDs here
tracks:
Yaare Deegarani
Shakhe Shemshadi
Rahe Bikhatar
Mahboobe Delo Rahmate Jaani2
Konoon Kesahebe
Hameshab
Gol Beerokh Yaar Khosh Nabaashad
Dar Deyre Moghan
Beshoo Beshoo
Bekoni Nakoni
Gilaky
Dar Deyre Moghan
Mahboobe Delo Rahmate Jaani
Beshoo Beshoo
Bekoni Nakoni