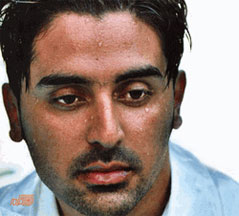 Pooya Mahmoodi is one of the most exciting and innovative Iranian guitarists to come along since Shahrokh Izadkhah and his usage of Persian traditional music "Dastgah" in O-Hum. Besides his great command of classical and electric guitar styles and the 10 string guitar , Pooya also plays Iranian traditional string instruments such as Setar and Tanboor, and is completely at home with complex time signatures and polyrhythmic arrangements.
Pooya's knowledge of Iranian folk and regional music and Rock guitar techniques created a remarkable sound in his collaboration with Barad, but unfortunately this brilliant album has still not received the kind of attention and appreciation it truly deserves.
Pooya's solo album Mehr has just been released , with Pouya Mahmoodi (vocals, guitars, guitar synthesizer); Negar Rostami Nejad (vocals, violin, background vocals); Mohammad Reza Asqhari (keyboards, drum programming, percussion programming); Luca Leombruni (bass guitar); Vladimir Jaggi, Billy Cobham (drums); Sam Pfund (percussion programming).
Pooya is also planning to participate in the SXSW Music Festival in Austin in March 2008.
Order Pooya Mahmoodi's "Mehr" online
featured Tracks:
tracks:
Si Pareh