January 14, 2003
The Iranian
Send us your questions and comments
* Am I a pervert?
I have a new problem. It's again concerning the sex with my girlfriend. She is European, 24. She tells me that I am very aggressive in sex and just think about my self (typical man) and am not the way she wants.

She Told me, "You should know how I like it by now" (we have been going out for a month now). I am sorry to say this but she says I am a pervert and I only think about sex when I am with her and just want that. She mentions that I don't care about her ... (to be honest, she is not the first girl who says this to me, and for this reason it has caused some of my relationshiops to break.)

What would you recommend me to do, or what do i have to do to b e a better lover;

Thanks,

Sincerely

M.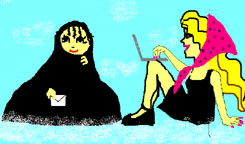 Reply
Abjee Fotti and Abjee Pari write:
Depiction of sex in the media always makes it look like fireworks. However, the truth is a lot of people probably have sex that is average, even boring. For young women in particular, sex can be something of a challenge because they may be too shy to tell their partner what they like and what they don't. In some cases, they may have never reached orgasm and don't know what it is. But they will usually not tell their partner for fear of alienating them.

Women may need a long time of foreplay before shedding their inhibitions so they can enjoy sex.

For young men, they don't necessarily need a long time to get aroused. That is probably because it is more of a visual thing for them whereas for women, they have to feel comfortable emotionally, trust in their partner.
A lot of men learn about sex from watching porn. So In bed, they mimic the big, dramatic moves they see in porn films, but that's not necessarily what feels best for their partners.

A little tenderness, some loving words, can go a long way to make a woman feel fulfilled.

At least in your case, your girlfriend is secure enough that she is bringing up these issues. But she needs to go further than just criticize you. Only talking about what turns her on can achieve better sex. You should encourage her to share her fantasies and needs with you before you hop into bed.

Talk about what you'd like to try, what makes you queasy, and even those kinky fantasies you've never shared with anyone. You'll find out what one another likes and learn about what lines not to cross.

There are other more subtle ways of realizing what your girlfriend likes or not. For example, when she makes noise in bed, it is a good indicator that you are doing a great job and you should continue in that area.

Finally, Practice Makes Perfect: The longer you are in a sexual relationship, the more attuned you become to the needs and wants of your partner.

Of course, the assumption is that you care enough about your partner to make these observations. If you don't want to lose your girlfriend, you better become less self-centered and more aware of her feelings.
With our best wishes,