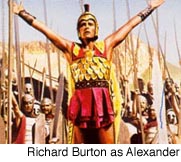 Alexander the Flop
A good film that didn't sell
By Darius Kadivar
June 28, 2001
The Iranian
Alexander the Great hit the screen in 1956. It was an ambitious and spectacular film, but did poorly at the box office. The film's failure was probably due to its realistic and intellectual approach, which probably contrasted with other more popular films like Cecile B. De Mille's remake of The Ten Commandments or Helene of Troy, directed by Robert Wise, which came out the same year.
In 365 B.C. King Philip of Macedonia (Frederic March) takes advantage of the rivalry between
various Greek states, including Athens, Sparta , and Thebes. He gradually conquers all of Greece, hoping to unite the smaller states against the massive Persian Empire. A soothsayer had claimed that Philip's son, Alexander (Richard Burton), would become master of the world. Alexander is named regent by his father when the latter decides to start a new campaign. See larger
However, Philip is assassinated on the orders of his former wife (French actress Danielle Darrieux), who never forgave him for preferring Euridice (Marisa de leza). The young Alexander who is only in his twenties, succeeds his father as King of Macedonia. He crosses the Hellespont at the head of his armies and wins the battle of Granica against his rival Memnon (Peter Cushing) .
Alexander falls in love with Barsine (Claire Bloom). After cutting the legendary "Gordian Knot", and accumulating victories, he finally confronts Darius (actually Darius III, portrayed with little conviction by British actor Harry Andrews), who is forced to retreat with what is left of his armies in order to fight back. However, the latter is stabbed to death by his own satraps.
In the meantime Alexander, while loving Barsine, decides to marry the Persian princess Roxanne (Teresa Del Rio) for political reasons. Alexander's ambitous nature drives him to conquer beyond the frontiers of the Persian Empire, but he dies at the pinnacle of his glory at the age of 33.
Director Robert Rossen (who was threatened by the infamous Senator Joseph McCarthy for "leftist" activities) left the United States for Italy in the early 50's along with his family, where he wrote the entire script in three long years, before returning to America in order to start financing the ambitious project. "Alexander," declared Rossen, "was a man in advance for his time, ... who was the first to search a unification between the peoples of Asia and Europe."
Welsh actor Richard Burton, well known for his theatrical performances in London's Ol' Vic, had just been discovered by American audiences for his performance in another epic, The Robe, set in the aftermath of the crucifixion of Christ. Burton receives the script for Alexander, considers it "extremely profound " and immediately agrees to play the part.
The film is obviously influenced by a Western vision of history. As a matter of fact, Rossen admits that the script is based on the works of Western and ancient scholars such as Plutarch, Pliny, Curtius, Arrian, Aristotle, Hamilton and Wheeler, among others.
The Macedonian king is shown to be indulgent toward Darius' family, and punishes the traitors who killed the Persian king, which is historically acknowledged. He is also shown as willing to unite both the West and East by adopting Persian customs, despite opposition from his generals. Nevertheless, Persepolis was burnt down by Alexander and his troops (330 BC) after a night of drunkenness.
The film was shot in Spain and Italy between February and July 1955 with a budget of $4 million, in order to recreate Persepolis, Agora of Athens (in El Vallon, Spain). With the help of the Spanish army, 45,000 soldiers were dressed and dispatched as Persian or Macedonian troops. Rossen particularly insisted on the costumes, which had to look realistic and not just pretty and colorful.
It is interesting to note that Prince Peter of Greece was the technical adviser for the film, and that the sets were made by a certain Dario Simoni (who else but a Dario, or Darius in Italian, could have reconstructed Persepolis?). A credit should be given to stunt director Michael Forlong, for orchestrating the spectacular battle scenes, and by the personal dimension given to Alexander's character, thanks to Burton's remarkable performance.
Another element which makes the film particularly spectacular is the fact that it uses the possibilities offered by Cinemascope and Technicolor. Indeed for today's audiences (already dazzled by the vast possibilities offered by digital technologies), it may be difficult to imagine the visual impact Cinemascope exerted on 1950s audiences hungry for spectacular action scenes which television could not match.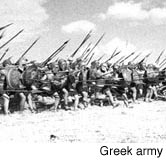 Indeed Cinemascope represented a technological breakthrough, in that it allowed the use of one camera and one projection apparatus in order to blow up an image to twice its size. In addition Technicolor provided a range of colors which obviously black and white television sets could not offer.
The combination of Cinemascope and Technicolor, in this film proves particularly efficient in illustrating what war was like in ancient times. One is shocked to see scenes where Philip, Alexander's father, is shown drunk on the battlefield, surrounded by blood-stained faces, hands and legs cut-off, but also showing details of Persian and Greek chariots, helmets and armors which seem directly copied out of illustrated history book.
Nevertheless at moments the film is too wordy, breaking its rhythm. That may be the fault of the financial partners who asked Rossen to reduce the film from three hours to two and a half, a compromise which may have played a part in the film's disappointing box office results.
Despite its shortcomings, the film conserves the dual aspect which Rossen wanted to illustrate: The Homeric description of a conquest that leads Alexander to Persepolis, and the ambiguous relationship of Alexander who sees in Darius III the reflection of his own father, Philip of Macedonia. As for Richard Burton, he masterfully impersonates Alexander as an idealistic, despotic, as well as a fearsome warrior.
Alexander's destiny seems to still fascinate Hollywood. The latest rumor is that Oliver Stone plans to make a film on the historical figure, with Tom Cruise (personnally I would have chosen Brad Pitt) who is among the candidates for the title role.