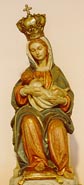 Four hours from El Paso
She was also filled with Spanish rage
By BURNTOAST
January 4, 2002
The Iranian
It was kickass all the way. All love, gun-play and death on a seedy mattress where Spanish floated in the air like a shawl from Seville.
The dust-bowl airport greeted me on arrival with sexual desire. The zero's of 2001 had not come to Chihuahua. Goo Goo Pow Wow was waiting for the new transforming paradigm.
The cab driver dropped me off at the Apollo Hotel in late November, cold. Wearing a sweater.
A white cat with one blue eye and one green was curled up inside a clay pot like a snake taking a siesta.
The town was flat like Abadan and hilly like Masjed-i-Solaiman. Dry. Yellow. Then suddenly over the hill in the valley - Bam! Bam! Salt and tequila, it was the city of Chihuahua. Mexico's answer to Silicon Valley spread out like a flat tortilla at the foot of the Nombre de Dios mountains.
Pancho Villa's ghost was a violet shadow crossing the mountain pass toward a star he couldn't see.
At the Apollo I told her be my friend but be naked. At the age of fourteen she lost her virginity to an eighteen-year-old and immediately became a player and highly successful penis chaser. She was also filled with Spanish rage and laid on the mattress like a rose.
It wasn't all bad of course. Diet iced tea in the windy city cooled her whatever and we had a conversation face to face.
I listened for a moment. Then I said softly, "Sure, sure, right, right."
Shivering there in the sunlight slanting through the green hotel blinds.
"Do you smell what the Rock is cooking?" I said.
She knew it was going to be tough. No bull-shit there. Hard. A long distance relationship and two career-driven people from El Paso and Chihuahua. I thought about it all the time.
I ordered some scrambled eggs, no pot, no X, no crack, nothing. I took a shower and shaved my whole body with a Mach 3 razor and edge gel because it enhances the muscles.
I decided that Rome was not built in a day even for an Iranian chip engineer in the land of tequila and knocked it off for some Mexican shut-eye.
All's well that ends well.