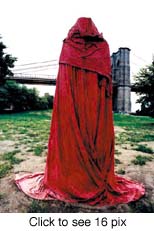 Struggle in Brooklyn
Video stills: Veils in New York

By Kasra Paydavousi
February 23, 2003
The Iranian
I was born in Tehran and migrated to the US in 1984. I received my bachelor's degree from Columbia University and my nasters from the New York Academy of Art.

I draw heavily from my childhood experiences both in Iran and the U.S. in an effort to humanize the internal conflict between individual rights and the Islamic society's demands -- a struggle that is being increasingly played out before a world audience.

The large veils in these pictures are over-life-size figures made out ofcotton canvas with a wood and plastic armature. They range from around six to eight feet in height (1.75 to 2.66 meters) and were displayed at the Empire-Fulton Ferry State Park in Brooklyn, New York this passed September.

I also made a performance video of a woman and her struggle with her veil. The videos were shot among the large sculptures as well as inside an abandoned warehouse. I used four different performers with different backgrounds (two Iranians, a Croatian-American, and a Palestinian-Venezuelan performer) to get the best result.
Included are some production stills from the videos.
LAST <<<< ....... (16 total) ....... >>>> NEXT
LAST <<<< ....... (16 total) ....... >>>> NEXT