Talk of Venice
Interview with Ramin Bahrani who's film "Man Push Cart" has generated quite a buzz at the Venice Film Festival
Poopak Taati
September 8, 2005
iranian.com
In front of me, at an outdoor café near Venice Days Office, I see Ramin Bahrani, the film maker. Lots of critics at the Venice Film Festival have been talking about his "Man Push Cart" [clip] which brilliantly captures the heart of New York. Comments have varied from "This is the kind of film I wish I had made" to "This is a movie only students of Kiarostami can make."
Looking at him close up, Ramin is a tall, bright, and impressive young man who is articulate with his views, is observant, and has a kind and generous way of answering questions.
How do you identify yourself? Iranian? American? Iranian-American? Or, something else?

I am an Iranian-American as confusing as that sounds!

I know you have graduated from Columbia University in the city of New York. Was "Man Push Cart" a thesis or a school project turned into a feature film?

No, I graduated about 10 years ago and since then I have produced "Strangers" which was filmed in Iran.

Do you mind if I ask you how old you are and how many years you have been living in U.S.?
I am 30 and I was born in North Carolina. I grew up in the south of U.S., but went to New York for a degree in film studies. After graduation from Columbia, I lived and worked in Iran for 3 years. Upon my return to New York, I came to develop the idea of "Man Push Cart" when I saw and learned about the life experiences of a Pakistani friend and neighbor.

Making a film is an expensive endeavor. Have you received funding and help from the Iranian- American community?

I received much help from the Iranian community but also from the Indian and Jewish communities, from both white and black Americans, and also from other groups. Although the film is about a Pakistani and Moslem immigrant, the first person who offered help was an Indian of New York.

Do you plan to distribute this film in Iran too?

I would love to. I have been working with a musician from Iran, Payman Yazdanian, who is a genius. Others in Iran have helped with the sound, montage, and technical issues. I would like to show the film at the Fajr festival and from there have a distributor for theatrical release.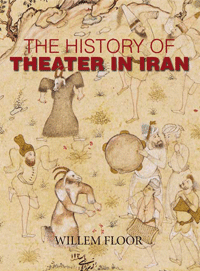 Would you be disappointed if the kiss scenes are censored?

Since this is an international film and since the kiss scene is not passionate, I am hoping it would not be censored.

How do you see the Venice Film Festival? Has it been useful to your film?

Oh yes, definitely. Venice Film Festival is one of the tops and the chances for recognition are great here. Only about 60 films were selected for screening and it was an honor for me to come here.

Have you had success in selling your film to distributors?
France, UK, Italy, and some other countries have already shown interest for purchasing it.

How did you get to show your film at Venice? Did you have connections?

No, I sent the film through Fed-Ex on the day before the deadline. That is how it got to be here.

Wasn't it annoying to you that at the night of screening your film, a few Italian critics asked if your point of view about New York was Iranian? I imagine since you were born and raised in U.S., it must be annoying to hear people talk as if you a foreigner to U.S. and therefore dismissing your view as marginal.

I didn't interpret it that way because I don't know of the popular culture. I don't watch films and television, nor do I listen to radios. I was glad that they liked the film. For me, it is important to be honest and have a fresh vision. Of course I don't have a tourist's perspective of New York. New York is where I live. I wanted to show it the way that it has not been seen.
Since 1890, many films are made about New York, but none introduces the angle that I have shown. My next film would be even more honest. It would show a New York completely ignored by other movie makers. Location is important. A mix of professional and non professional actors is also important to me.

Your film is about a Pakistani immigrant. You have a Spanish actress playing a part. You are a writer and director of Iranian origin. Your cinematographer is an American. The cart was made in China. Your funding has come from Indian, Jewish, Iranian and a diverse group of Americans. Was it a conscious choice on your part to make this film of international elements?

Yes, I live in New York where there are different nationalities and cultures. How could I not be international? In fact, there is a debate nowadays that cinema should not have a national origin and good films are about and for everyone in the world.


As a last question, what is that you want to tell through your films?

I believe it is important to be honest to yourself and not to be a hostage to your culture. I want to make fresh films, films with a real vision, like movies that were made in the 50s and 60s. I could make a film even about here and show a Venice that no other film maker has yet seen. That is what I like to do.

A few minutes later, we were walking toward the festival happenings in the company of a mutual friend. I wished him lots of success and told him the interview will be published at an Iran related website on the Internet. He said his father reads them every night.