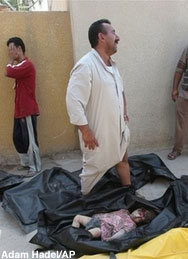 Children of Iraq

David B. McCoy
July 22, 2006
iranian.com
wounded and dead children of iraq
.... encircle me –
wounded and dead children of iraq
.... stretch for as far as the eye can see –
wounded and dead children of iraq
.... reach all the way from this central
.... point of iraq to its boarders –
wounded and dead children of iraq
.... cover the middle east –
wounded and dead children of iraq
.... cover the land hemisphere –
wounded and dead children of iraq
.... cover the water hemisphere –
wounded and dead children of iraq
.... cover the earth –
wounded and dead children of iraq
.... fill my dreams and thoughts –
wounded and dead children of iraq
fill the universe and fly
.... apart at the speed of light –
wounded and dead children of iraq
.... are becoming new planets and stars –
wounded and dead children of iraq
.... stretch for as far as the eye can see...
50,000 SOULS
With the announcement,
"We got him,"
all the soldiers,
the generals,
the cabinet members,
the president,
and the Republican members
of Congress -- in unison --
proudly, arrogantly,
begin thumping their chests.
....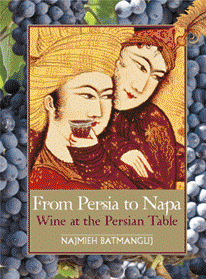 And as the souls
of 30,000 Iraqis
continue their trek
toward heaven,
I am filled with
a sense of shame,
knowing
there can never be
any forgiveness
for our nation's sins.
David B. McCoy is "Born Again" as a middle school teacher for horrendous sins commented in a previous life. For the last quarter century, he has run Spare Change Press which publishes Solo Flyer and a few chapbooks each year. McCoy is the author of The Geometry of Blue: Prose and Selected Poetry; The Clarity of Clouds; Voices from Behind the Mask; and the Internet book, Buffalo Time. Purchasing information for these books can be found at www.mccoy.shorturl.com.