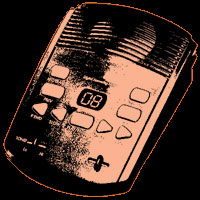 Snapshots of a day
"You sing a sad song just to turn it around"
Sara Darcy
June 12, 2006
iranian.com
4 a.m. - In retrospect, I think I'll blame Daniel Powter. Four in the morning, and I was wide awake with his new song stuck in my head.

"You had a bad day
You're taking one down
You sing a sad song just to turn it around"

These were the only three lines I knew from that song ... over and over and over ... you had a bad day ... you had a bad day ... it seemed like an ominous start to the day ...

I picked up the phone and called G's number ... two rings and the familiar message, "Thank you for calling ****. I'm sorry I'm unable to come to the phone at the moment, but if you leave your name and number, I shall get back to you as soon as possible". Same message I've been hearing for days now followed by the same six beeps and the same robotic voice saying "me-mo-ry full". God I hate that robotic voice, and I hate that stupid answering machine, and I hate the fact that he doesn't erase his damn messages ... granted, most of them are from me, which is probably why he keeps them there ... just so I can't leave him any more annoyed messages ... "G, it's me again ... I can't believe you're avoiding me like this ... can we please behave like adults and at least have one last conversation? Please call my mobile when you get this."

Everyone said maintaining a relationship while living in different continents was hard, but who would have thought breaking up would be so damn difficult ... I mean logistically difficult ... when one person refuses to pick up the phone so you can tell them they're an ass, there's not too many other options ... somehow doing it over email just seems too cruel. In the beginning I used to worry he was dead, or sick, or kidnapped by the Russian mob ... now I know he's just being stubborn and refusing to pick up the phone.

I call again, mostly out of spite and probably some hidden masochistic tendencies, and..."me-mo-ry full" ... wonder how much money the Russian mob would want, not to return him, but to kidnap him in the first place ... great, now I'm wide awake, and pissed off, and that song is firmly stuck in my head.

"You had a bad day
You're taking one down
You sing a sad song just to turn it around"

11 a.m. : I'm in the main lab, still in a pissed off mood and feeling rather sick, when A called. He wanted to know if I could come out and talk to him, sounded almost hysterical. A's worked for me for over 6 years and he's normally the calmest person ever, so I knew something was terribly wrong ... I came out and found him sitting in my office, sobbing. I offered him some Kleenex, closed the door to give him some privacy and just sat there with him until in-between his tears, the story came out.

His mother and brother were dying ... his dead sister's children, who had been living with his mum, were now being orphaned for a second time along with his brother's young child ... there's nobody left but A, and he's all alone, a million miles away from home, helplessly watching his family die from afar. The tragedy of Africa was unfolding in my office, and one of its brightest sons was sitting in my office, crying his heart out, asking for some time off, and apologizing for having a bad day ...

"You had a bad day
You're taking one down
You sing a sad song just to turn it around"


7 p.m.: I call her hospital room to see if anyone answers the phone, but as usual nobody bothers. I know she hates people calling to inquire (or as she puts it "foozooli") about M, but without a cell phone, the few of us who are allowed to call and visit have no way of contacting her. M is my friend's daughter, and I am one of the few who are allowed to visit her in the hospital, but tonight I was hoping to call and tell them that I can't make it ... I'm too tired, too sick, too upset about the small and large tragedies of life ... just having too much of a bad day to go and try cheer up a sick child, but without giving notice, I know M will be up all night wondering why Khaleh didn't come ... and I just can't do that to her.

I drive to the hospital and I'm a block away when I see sirens flashing in my rearview mirror. It can't possibly be for me... I pull over to let the cop pass, but he doesn't. Instead he pulls up behind me, swaggers over with that macho "American Cop" attitude, and asks me if I know why he's stopped me. Cause you're an a**hole...I bite my tongue and shrug. He asks me where I'm going and I tell him I'm going to the hospital. Asks if I have any family members that are in the hospital and I nod, feeling the tears swell up ... I'm not going to cry in front of the damn cop. He gives me a ticket, followed by a "have a nice day" and swaggers off ... have a nice day ... have a nice day ... I wish I had enough guts to reverse the car and run him over.

I pull up in the hospital parking lot, find a spot way in the back, sit in my car and start to cry. I cry for the bits and pieces of my day ... I cry for the end of my relationship with G, I cry for the tragedy of A's family, and I cry for the sick child that I'm going to visit, who in her short life has seen endless needles and hospitals and pain, and still anxiously waits for Khaleh to come everyday and play princess games with her.

I finally wipe my tears and head upstairs, hoping the lights in her room are too dim for anyone to notice my red eyes. The song is still playing in my head ...

"You had a bad day
You're taking one down
You sing a sad song just to turn it around"

11:59 p.m. : Here's hoping I'll wake up tomorrow morning with a different song.