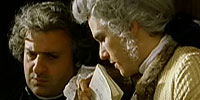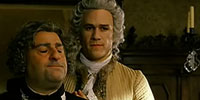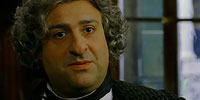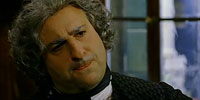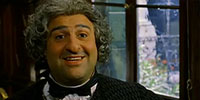 Images Courtesy Touchstone Pictures
Behrouz Bahmani
January 6, 2006
iranian.com
Iranian-British actor and comedian Omid Djalili has delivered what I would call is his best work yet, maximizing his screen time in the light hearted romantic comedy romp, Casanova.
The impact of Omid's shining in this role, becomes somewhat clearer when you realize he is competing with names the likes of, Heath Ledger, Sienna Miller, and Oliver Platt, but don't stop there, now add veterans Jeremy Irons and Lena Olin, and you can see there simply is no marquis space left for our boy.
Reprising what has now become a somewhat predictable character, the comedic manservant feigning simplemindedness, but really a loyal friend with the heart of a lion when the chips are down. You know the guy, Phileas Fogg's Paspartout (around the world in 80 days), Dr. Frankenstein's Igor, and Last but not least, Daie Jan's, Mash Ghasem.
Omid plays his role perfectly and adds his usual extra Persian flair to the part, little gems of facial expression, or body twitches, here and there, subtle but as an Iranian watching, you can see them, as if he put them there for us only to enjoy.
Hilarious facial expressions, and possibly some of his best physical humor to date, Omid often carried the comedic scene as needed, occasionally outdoing the star Ledger handily. Ledger's overdone British accent was at times annoying, especially when the story, Hello? takes place in Venice? Omid's accent was far more realistic and sounded much more authentic.
But wrong accents is the least of your worries, as expected from outstanding director Lasse Hallstrom who brought not only his talents, but that of his wife's, the incredible Lena Olin to the project.
Omid has been on a roll if you haven't noticed, you should and will from now on. I used to think it was beneath him to take all of the roles he has in his career, but the more I watch him and the more I get to see his craft on screen, the more I have come to appreciate what a talent he truly is.
Recently he was on the HBO Special "One Night Stand" and killed the audience. Opening his show with the cliche Arab accent expected by the largely American audience, ethnic jokes flew like machine gun fire in Fallujah (sorry). Then, suddenly at the halfway point, he switched to a full-on perfect British accent, and shocked the New York City crowd as he announced, " I don't really talk like that it's just a bit of an ethnic ruse.", and went on with the rest of his routine which I can't begin to describe how funny he was.
If you ever see him, ask-no demand that he demonstrate the 4 primary Iranian Disco Dance moves. Then plan your funeral because you will die. Gladly.
But back to Casanova for a final note, I totally bought it when, at the end of the film Omid said to Ledger, "Sir, I am Venetian, my place is here in Venice."
You could almost hear him saying it with an entirely different city in mind.
Here are some of Omid's accomplishments; (To learn more punch him up at IMDB.com, or visit omid-djalili.com)
| | | |
| --- | --- | --- |
| Film | .... | Television |
| Over the Hedge (2006) (Currently filming) | | My Family and Other Animals (2005) |
| Alien Autopsy (2006) (Currently post-production) | | Chopratown (2005) |
| Casanova (2005) | | Whoopi (2003) |
| Sky Captain and the World of Tomorrow (2004) | | Between Iraq and a Hard Place (2003) |
| Modigliani (2004) | | Dinotopia (2002/II) |
| The Calcium Kid (2004) | | Lenny Henry in Pieces (2000) |
| Deadlines (2004) | | Jason and the Argonauts (2000) |
| Cross My Heart (2003) | | Small Potatoes (1999) |
| Anita and Me (2002) | | Coming Soon (1999) |
| Promise Land (2002) | | Cleopatra (1999) |
| Mean Machine (2001) | | The Lake of Darkness (1999) |
| Spy Game (2001) | | Barking (1998) |
| Gladiator (2000) | | |
| The World Is Not Enough (1999) | | |
| Mad Cows (1999) | | |
| Notting Hill (1999) | | |
| The Mummy (1999) | | |