More than real
Hollywood's thousand and one nights

By Darius Kadivar
November 25, 2002
The Iranian
The truth is not revealed in one dream, but in many...
-- Pier Paolo Pasolini's "Il Fiore delle Mille e Una Notte" (Thousand and One Nights )
Often situated in geographically uncertain Middle Eastern countries most films dealing with the 1001 nights tales are indifferently either set in Iraq's Old Baghdad (which was actually under Persian rule) or the enchanting city of Isfahan in Persia.
However let's face it, most of these movies were meant to be unpretentious yet colourful and costly, often confusing Persia and Arabia on the map. They were a pretext for exotic adventures which ended happily with the hero (Alladin, or Ali Baba) winning the heart of a princess or harem girl in a never never land of flying carpets and magic lamps.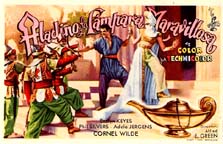 "A Thousand and One Nights" (1945) here in its spanish release under the title "Aladino y la Lampara Maravillosa" (Aladdin and the Marvelous Lamp).
Larger image
"A thousand and One Nights" is the title of Alfred E. Green's 1945 film starring Cornel Wilde as Aladdin who seeks the love of Persian Princess Armina, (Adèle Jergens), but his romance is interrupted at every possible turn by a Woman Genie (Evelyn Keyes), who also has fallen in love with him.
"I'll keep watching you ..." The genie (Evelyn Keyes) follows Aladdin's (Cornel Wilde) every move.
Larger image
There are a few things which might be considered strange by today's standards, like a Persian princess with blonde hair, and the racial references are all muddled, but this is to some extent a spoof on the European "Arabian Nights" take on Persian legend. So it is not wholly incompatible.
The most stunning thing is the art direction, which was Oscar nominated, and this manifests itself in the great sets and also the costumes. Technicolor was made for films like this and give a quality that is almost more than real. The script seems very contemporary and not at all 1940s, and Phil Silvers with a pair of anachronistic spectacles seems like an American tourist placed in the period setting to give modern audiences some point of identification.
Phil Silvers (left) follows Cornel Wilde's (Alladin) steps in this exotic adventure.
He and Wilde sparkle throughout the movie, as do panto villains Hoey and Van Zandt and the two beautiful ladies playing the Princess and the Genie. Interestingly actor Rex Ingram who also played a Genie in Alexander Korda's 1940 classic remake of " The Thief of Bagdad " (See "Ahmad, Abu and Jafar") makes an appearance in this movie. Also keep a keen eye open and you will notice Shelly Winters playing a handmaiden!
There's also Disney's 1992 favorite hero "Aladdin", an animated musical to which contribute the voices of famous stars like Robin Williams, Jonathan Freeman, or Gilbert Gottfried and includes humour and romance as well (Most Disney Classics are like that too!)
Walt Disney Studios
Larger image
The story takes place in the poor town of Agrabah, where "street rat" Aladdin (Scott Weinger) and his Monkey Abu live. They are poor and must steal food to survive on the streets. Aladdin falls in love with the Sultan's daughter Jasmine (Linda Larkin) and the two eventually become friends.
By royal orders, it is time for Jasmine to get married (and it must be too a prince ONLY!). However She does not want to rush and wants to wait for her true love too come. Jafar (Jonathan Freeman) is the Sultan's "trustworthy" Vizier who wants to rule the world and gain the power of being a Sultan. However, he needs the "magic lamp" to do this, so he gets Aladdin to get the lamp for him in the "Cave of Wonders".
Aladdin finds the lamp and meets the famous and humourus "Genie of the Lamp" (Robin Williams). The Genie changes Aladdin to a prince so he can gain the love of Princess Jasmine. Jasmine and Aladdin fall in love together, but when Jafar's sidekick parrott Iago (Gilbert Gottfried) gets ahold of the lamp and Jafar rules Agrabah, it is going to take Aladdin's courage and bravery (With the help of the Genie) to defeat Jafar and save Agrabah!
The film won Academy Awards for Best Song ("A Whole New World") and Best Original Score. Interestingly The legendary city of Agrabah with its mud bricked architecture, blue Mosques and Palaces is actually directly inspired by photo's taken by an iranian cartoonist working at Disney Studio's from his hometown Isphahan in Iran . Also when Aladdin finds the " Cave of Wonders " a keen eye can clearly identify relics of Persepolis ( the palace of our Persian Kings ) in the form of Columns and Palace doors buried under tons of Gold coins and sparkling gems.
Ali Baba has a name fit for adventure and it is no wonder that he appears in a number of movies. First in "Ali Baba and the 40 Thieves" (1944) Directed by Arthur Lubin with Maria Montez (Amara) , John Hall (Ali Baba) and Turhan Bey.
Notice the background the Persian looking mosque minaret.
Larger image
It follows the exploits of the Caliph of Baghdad's son, who runs off into the desert after his father is killed by raiding Mongols. There he encounters the legendary 40 thieves and watches in amazement as their command, "Open Sesame," magically parts a solid rock wall, revealing a cavernous hiding place filled with treasures. He is adopted by the thieves, dubbed "Ali Baba," and grows up to be their leader. As an adult, Ali sets out to avenge his father's death and to free his land from the reigning Mongols.
Maria Montez stars as Amara, a Baghdad beauty, who is one of the main reasons of the fight between the Mongol Khan Hulagu and Ali Baba. A funny anecdote about the difficulties encountered in making the film concerns Maria Montez's contract that stipulated that she would never accept to do scenes or scene parts against her will.
For instance, the director Arthur Lubin tried to convince her of appearing naked inside of a pool, the problem was only solved when Lubin accepted to put her in a bubble bath. Also before beginning work on what was to become the most popular and commercial movie of its time, Maria said to the media: "According to my horoscope, the name I will have in this movie will not augur me success." The producers thought Montez wanted to change the name they assigned her and they allowed her to do so.
Even though this movie dates from the 40's it was previewed in movie theaters worldwide for commercial release a number of times as this 1973 Spanish poster release (Ali Baba y los 40 ladrones) testifies. Also notice clearly in the background the Persian looking mosque minaret.
Ali Baba also appears in another "hocus pocus" sequal "The Son of Ali Baba" in 1952, this time with Tony Curtis in the title role.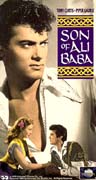 Tony Curtis and beautiful Piper Laurie in the "Son of Ali Baba" (1952).
Larger image
It also allows colorful appearances of Hollywood second roles like Russian immigrant actor Leon Belasco ( actually Leonid Simeonovich Berladsky ) as "Babu" whose turbaned funny face and gimmiks are enough to justify his presence in this film.

Leon Belasco is Babu
Larger image
William Reynolds is Mustapha, Kashma's friend and sidekick. As for beautiful Susan Cabot she portrays the beautiful but unpredictable Tara. As the story goes In medieval Persia, Kashma Baba (Tony Curtis) is a military cadet by day and a roisterer by night.
Kashma Baba (Tony Curtis) is a military cadet
Larger image
The morning after a rowdy banquet, Kiki (Piper Laurie), an escaped slave, takes shelter under Kashma's roof. Word comes that the wicked Caliph (Victor Jory) is looking for her; but Kashma, by this time in love, flees with her to his father's palace. Alas, there's more to Kiki than meets the eye. The greedy Caliph attempts to steal Ali Baba's(Morris Ankrum) treasure. Kashma thwarts the Caliphs plans. Yet will the evil schemers succeed? The sons of the Forty Thieves are called to the rescue!
What is the cunning Tara (Susan Cabot) up to?
Larger image
Tony Curtis's swordmanship are equaled by his good looks and he certainly seems to enjoy playing the lead role and winning the hearts and lips of his female co-star Laurie Piper.
Another original appearance of Ali Baba can be viewed in comic Eddie Cantor's 1937 parody of Ali Baba "Ali Baba goes to town" where the Turbans of the Caliphs are as big as the domes of their mosques and palaces. The movie is quite funny. It is about a man (Eddie Cantor) working on the set of Arabian Nights who falls asleep and dreams he's back in Baghdad as Ali Baba, an advisor to the Sultan. In a spoof of Roosevelt's New Deal, he organizes work programs, taxes the rich and abolishes the army.
Eddie Cantor's Parody of the Ali Baba Legend
Larger image
Last but not least of the 1001 Night tales, heroine Princess Sherehazade makes two major movie appearances. The first in the film the "Song of Scheherazade" (1947) based on the Russian composer Rimsky Korsakov's music and the Woman who inspired him.
French Hollywood star Jean-Pierre Aumont stars as the Russian composer in his youth as a officer in the Russian navy who falls in love with a manipulative femme fatale portrayed by exotically beautiful Yvonne De Carlo. The blend of technicolor and song along with the exotic beauty and dancing skills of DeCarlo make "Scheherazade" a must see for those who thrill to great musical entertainment.
Yvonne De Carlo often portrayed Middle Eastern belly dancers
as in the "Song for Scheherazade"
Larger image
Scherehazade makes another appearance in a less memorable film with no other than beautiful Catherine Zeta Jones (yes Mrs. Michael Douglas). French director Philippe de Broca 1990 movie "The Thousand and One Nights" attempts to tell the story through Scheherazade own experiences. Indeed the latter ends up by actually taking part to her own tales.
Through her journey she meets all the great heroes like Sinbad (Vittorio Gassman) and kings like Shahriar (Thierry Lhermitte), and is helped on her journey by Aladdin (Stéphane Freiss) and Jimmy Genious (Gérard Jugnot) a Genie who has been banished from the middle ages and is living in 1990 London and uses his TV to reach Scheherazade.
This was Zeta Jones's very first movie appearance which was actually a flop. It is no wonder it is unavailable on video. However her beauty seems fit for Scheherazade and catches up for most of the liberties and anachronisms in the plot.
Cornel Wilde once again appears in a film set in ancient Persia, this time as Omar Khayyam in "The Life, Loves and Adventures of Omar Khayyam" (1957) directed by William Dieterle. Although details of Khayyam's life are unknown, this movie invents one for him that include his real achievements - inventing a new calendar and of course penning poems. Thus the film provides us with a splendid cinematic introduction to Persia's greatest poet.
Omar Khayyam (Cornel Wilde) as Hollywood poet and hero
Larger image
Khayyam appears as a compassionate and noble figure whose extraordinary literary talent and all-encompassing intellect displayed no natural boundary. Khayyam is admirably portrayed as a fascinating personality. The casting of the movie is exceptional and we are treated to fine supporting performances by distinguished actors such as as Michael Rennie and Sebastian Cabot among others.
The movie also attempts to explore key historical issues surrounding the life and times of Khayyam. We learn about the Byzantine Roman Empire's war with Persia involving an alliance composed of Bulgars, Greeks, Franks and Lombards. We also confront a number of other historical and scientific issues in this film that are portrayed with an interesting admixture of detail and insight that seems to be unusual for such Hollywood productions.
Khayyam additionally provides us with a fascinating glimpse of the Assasins of Syria, and their leader Hasani (actually Hassan Sabah and his infamous "Hashashin" sect). This film has Khayyam romancing a sultan's bride Sharain (Debra Paget) and foiling the assassin sect's plot to kill the Shah's son Prince Malik (John Derek). As an advisor to the Persian Shah (Raymond Massey), Khayyam efforts to root the Assassins out of their extrodinary mountain fortress.
Omar Khayyam's portrayal in William Dieterle's film is certainly highly exagerated especially regarding his military skills and the real Khayyam was probably more in phase with the image depicted by Amin Maalouf in his bestselling novel "Samarkand". However the film is truly a joy to watch as a Technicolor Spectacle and contains all the ingredients that make up an exciting Oriental Tale.
Pier Paolo Pasolini's "Il Fiore delle Mille e Una Notte" (Thousand and One Nights) was released in English under the title of "Arabian Nights" or "Les Mille et Une Nuits" in French. It is a more personal and audacious interpretation by the filmmaker than an accurate account of Scherehazade's tales and certainly less politically correct given its erotic illustration as compared to the glossy Hollywood 1945 version with Cornel Wilde.
Pasolini's interpretation of a Thousand and One Nights
Larger image
"Arabian Nights" was prized at the 1974 Cannes Film Festival with the Special Grand Jury Prize. The film is meant to be sensual and humorous tale, Pasolini follows the adventures and the rise of a young Pelligrini slave. Around its history, we see the episodes simultaneously magical, mysterious and odd inspired from Persian, Egyptian and Indian cultures of the 9th century.
This film obscures the boundaries between myth, dream and cinema and mixes the three together. As tales of myth, the interwoven stories in this film act as lessons of love and heartbreak, collective dreams and fantasies of staggering beauty.
Destiny is a major theme in this film, as though human beings all live the same lives, as though humankind's greatest desires and fears are gifts and curses from the gods -- the end residue remaining in the beauty and wisdom of poetry, spoken and visual.
Ennio Morricone has created some very beautiful music for this film. The harp strings overwhelm us unexpectedly when we first encounter the story of the pigeon and the dove. The settings are amazing, throughout Yemen, Ethiopia, Iran and other locations.
Vincente Minnelli's 1955 technicolor adaptation of a Broadway musical Hit "Kismet" is an enchanting fairy tale about a vagabond poet Hajji (Howard Keel) and his beautiful daughter who set the ancient city of Baghdad on its ear. The music includes famous musical scores like "Stranger in Paradise", "Baubles, Bangles and Beads" and "This is My Beloved."

Hajji (Howard Keel) tries out his vocal cords in the desert
Larger image
Howard Keel plays the witty poet-beggar whose quick tongue is forever getting him into trouble-and out again. Masquerading as Hajj, a famous sorcerer with magical powers, he had just the right amount of charm and bravado to fool a wicked Wazir (Sebastian Cabot) and turn a fair lady's head (Dolores Gray).

Many other minor films have been made based on Thousand and One Nights it would be impossible to mention them all. However two more deserve notice. One is "Ali Baba et les Quarante Voleurs " with French film comic Fernandel playing the title role shot in Morroco in the 1950s, and Ray Harryhausen's "Sinbad" Adventure Sequals. (See "Come with the wind").
However the stories in these tales are so rich in imagery, fun, adventure and universal symbolism that it is no wonder that good old King Shahriar refused to behead his beautiful Sheherazade after her "One Thousand and One Nights" of storytelling and decided to marry her instead. Scherehazade's character is also a tribute to women in that their intelligence and imagination will always have the upperhand over the brutality and wrath of men.
That is probably why the enchantments of these these oriental tales will continue to fascinate spectators of all ages and inspire generations of movie makers worldwide thirsty for adventure, fantasy, harem girls, a dashing hero and a beautiful exotic Persian Princess waiting to be rescued from the hands of an evil Vizir.
Tony Curtis and Piper Laurie Final kiss in "The Son of Ali Baba" (1952).
All's Well that Ends Well
Larger image
Does this article have spelling or other mistakes? Tell me to fix it.