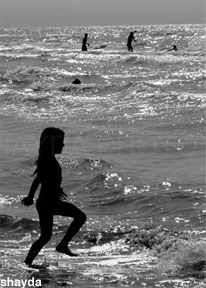 Shomaal days
Stories that would last forever

Layla Khamoushian
February 22, 2007
iranian.com
Certain stimuli bring them back instantly -- my memories of Shomaal Days. A nice afternoon breeze, the smell of earth after a rainfall, the warm sun on my skin, the sound of ocean waves, watching the beautiful sunset, a sense of hunger after swimming, and of course... the taste of "seer torshi" and "rayhoon" with "loobia-polo".
Looking back, those were my best memories of Iran and my childhood. Whether we went for Norouz, when it was cold and we had to stay in our villa and light the fireplace the whole time, or if we went for long weeks in the summer... all of them bring back a smile to my face.
In the summer time, the day began with a huge breakfast including fresh "naan" from the "noonvaee" after one of the fathers had gone early morning and stood in line for at least an hour... and fresh eggs from a local farmer. Eggs and butter. No fear of cholesterol existed on those days.
After breakfast, we got ready to go to "darya" between 10 a.m. and 1 p.m. Usually one of the mothers volunteered to stay home and make lunch for everyone that day.
At the beach, the girls were forced sometimes to wear a T-shirt over their swimming suit because our government believed men would get on their binoculars and watch us from afar.
Despite all the restrictions, we hit the salty waters of the Caspian Sea and swam for at least 2 hours. Part of the time, we spent making castles on the beach from sand. We also dug and dug to reach down to water. What a big challenge that was.
Then we went back home for a huge feast for lunch, and after all that morning workout, we devoured every bit of food. The best part came right after lunch... Siesta Time: everyone had to take a nap for at least an hour after lunch. A wise recognition that the body needs to slow down for a period of time during the day. (Only if I could do that now at work!)
Sometimes we -- the kids -- pretended we had fallen into a deep asleep in the room but once the supervising adult left, we would wake up and start whispering. Other times, we slept on the balcony and enjoyed the afternoon breeze and sun, and the sweet and salty smell of the ocean.
Some afternoons, usually from 2:30 to 5:00, we went back to the beach for our second round of swimming and "maaseh baazi". When I was still "undeveloped" and had a short boyish haircut, in the afternoons I would go with my Dad to the men's section of the beach! It was unrestricted -- without dividers or "chadors". That was the extent of breaking the rules for me.
Around 5:30 p.m., we would rush home to take showers and get ready for the night. The night Fiesta began with even eating more... sometimes it was "balal" which we BBQ'ed in the backyard and dipped into salt water, and yet sometimes it was the "bastanee choobi" which we bought at the supermarket after riding our bikes there. What a debauchery...
The endless night went on and on, while we played, sang, danced and took long walks at the beach or on the small streets of Darya Kenaar and told stories... stories that would last forever in my mind.
All those fond memories of my childhood are from when the country was at war, when there was a shortage of electricity and gas, and people stood in line for milk and chicken.
Isn't that just ironic? Comment