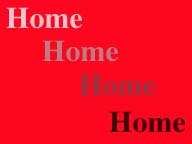 Am I homeless?
I feel I don't have a place where I can truly call my home
By Meysa Maleki
August 7, 2001
The Iranian
I arrived at Mehrabad Airport after a 24-hour flight from North America. I was nostalgic. Alas after ten long years -- was I finally home? Is Iran my home? Home, the cozy place that feels like being tucked in by your mom after slipping into your favorite pair of comfy pajamas!
So here I was waiting for my luggage, looking around at the elated faces of my fellow passengers when I was suddenly overwhelmed by a terrible feeling. I hadn't felt like that in ages. Why had my alacrity given way to this melancholy? This melancholy had haunted me every Friday afternoon during my childhood in Iran.
I picked up my luggage. Finally! I passed by the green line. No hassles. I could then see the phalanx of visitors awaiting the arrival of their most loved ones. What a spirited, cheerful crowd at this time of the morning! Their energy overwhelmed me even more. I could see what I had been missing all these years.
I felt like a neglected person who is suddenly embraced for the first time. I am talking about the embrace that makes the person regress to childhood and cry the tears that heal and bring one closer to his or her essence. You know, the kind of tears that always makes you feel better after; the tears that make you so "sabok" you can float around and twirl in your own celebration.
Amongst this crowd I found my family and friends including my grandma who could hardly walk. Wow! I was really home. I cried and cried and cried each time feeling the wounds that I had tried to hide for so many years while wearing the mask of the strong girl every one had wanted me to be. I was finally naked!
Looking at my father's grey hair, the strong man I admired so much I thought about the mortality of time; how we are fooled in North America to "seize the day" only to find broken promises and wounded souls. Was it worth it I asked. Were my aspiring dreams worth missing out on seeing time turn my father's hair grey? My mother, the Madonna that I idolized danced around in her joy as she was re-united with her lost part. We headed, slowly, into the streets of Tehran towards "home."
Oh, the scenic Tehran, the city that I had left so many years ago. Admiring the familiar streets, I felt my melancholy had now given way to a euphoria I cannot express with words. Even the smell of exhaust and the sound of "azan" that had made me so depressed as a child could not affect my sensory system.
As we got to my house, I felt my stomach growling as I had decided to avoid the airplane food. Nothing like the first night of arrival! As I sat with my family having a "noon barbari" and "khameh" breakfast I wanted to transcend time and stay forever locked in the confines of my family. But the sun was slowly rising and I had to move on once again.
The first few days of my visit were filled with visiting family. How time had changed everyone! The young had turned into adolescents, while the old had become frail and weak. So many family members had passed away. At times, I found myself struggling to accept all this change but giving and receiving attention was enough to distract me from the usual, pointless and exhausting philosophical quarrels with myself.
After a few days of being surrounded by family, I found myself once again craving my independence. I wanted adventure. I wanted to take the bus and head to Lalehzar and other parts of Tehran I had never even seen. I wanted to go beyond the four walls of Jordan and Mirdamad, the only parts of Tehran I had been exposed to as a child. I wanted to head to the cafes and find people my own age.
I went to Gandhi Plaza, a strip of coffee shops in the north of Tehran where couples go on dates; the artists meet up to smoke, sip on espresso and discuss Makhmalbaf's latest film. Friends gather to talk about the upcoming elections, their dreams of moving to North America, their memories of Shomal over the Norooz holidays. Beautiful girls wearing the latest, haute couture manteaus and roosaris sit around ignoring the boys, and yet trying to get their attention.
Something about the Gandhi strip is so seductive. Maybe because it resembles Western cafes. But why, I wondered, would I be attracted to a place that resembles the West when I had traveled this far only to get away from it all? I remembered the Friday afternoons and the sound of early morning azan and suddenly I knew why. I remembered the screaming Basiji who had made my cousin and I feel like prostitutes for going up a street more than once, and I knew why.
Oh, this is an interesting anecdote. My cousin Leyla just turned 19. Her parents had bought her a brand new Matisse for her birthday. I guess you could say she is a "privileged" kid from the north of Tehran. Since parties are a rarity for her, she has fun going to coffee shops with her friends or cruising the popular streets of Tehran, namely Shahrak Gharb or Jordan where other youths of her age hang around and cruise the streets. It's like a cult almost because the youths of Tehran bond in pursuing this behavior religiously, week after week.
I was over at my aunt's house, Leyla asked me to accompany her and her friend. "It would be fun," she said. Yes, fun it was NOT as we were dehumanized and belittled by the notorious Basijies. How the memories of that day are etched in my mind.
The Basiji marked his trade with his black attire, fearsome eyes and beard, lack of proper manners, and grotesque attitude. He complained about my cousin wearing her glasses over her head and about her driving up a street more than once. He took away her driver's license and her car ownership card and told us to follow the van full of young boys and girls in front of us.
Unlike us, the occupiers of the van didn't seem to care; as if this was a ritual or a routine part of the game they played with the regime. I, on the other hand, had heard raging stories about the Basijies and was not ready to be tortured or belittled any further at their hands. I had to take charge. I asked my cousin to turn around and escape. Luckily she did. But she was worried about her documents. We had to get them back.
We borrowed a cellular phone from a man on the street. We called Leyla's father to come to our rescue and then hid behind a van on a side street. Panicking, I asked a neighborhood boy to hide our tapes in his house. I will never forget his friendly face.
Leyla's father finally arrived. Angry. Disillusioned. The only words he uttered were "Where is the Basiji centre?" Upon Leyla's response, he drove away, leaving us behind. We waited patiently for his return. Upon his return, he informed us that they had asked for Leyla as the operator of the vehicle to go in.
As Leyla and her father marched towards the Basijis, I prayed that everything would be okay. When in a few minutes they returned and Leyla was smiling I knew that all was fine. "They were different people." Leyla said. In front of my father they were respectful and they just gave me an "warning" for the offense of "bad hejabi". She said others were being tortured though, specially boys.
I felt like suffocating. What would have happened to us if we hadn't been able to get away? As Leyla drove back home that night, I couldn't help but compare my life to hers. Leyla has not experienced the "culture shock" that us "immigrants" have gone through. Leyla has never struggled to belong in the same way us "immigrants" have.
Leyla has never wondered what if she won't be able to pay her bills at the end of the month or what happens to all her student loans if she doesn't successfully enter the professional field of her choice. She has never heard words like "little terrorist" or cried herself to sleep because no one was there to hug her when she was having a rough time but unlike us, Leyla has never walked down the street without feeling terrorized in some way.
Living in constant fear, Leyla has never had a calm moment whether inside or outside her house. She will never know how she can be a law abiding citizen of society because there are no rules to abide by.
So what of my childhood Friday afternoon melancholies and the depressive early morning azan? What of the seducing at Gandhi Plaza? Is it all somehow related to my lack of freedom, I wondered. Is freedom really that nourishing to my soul that as a child I somehow felt empty on those long Friday afternoons?
Is the azan really depressive, not because of my dislike for the Aazan per se, but because I am being forced to listen to something at a set time, contrary to my wishes? And is the Gandhi Plaza seductive perhaps because it may allow ideas to be exchanged freely and identities to be expressed without judgment?
So where has all this left me? I do not know. I do not know whether I prefer the calmness of the mountains of Iran, where nature unravels its mysteries to me, or whether I prefer the fast paced highways of north America. On the other hand, can I live in a society where the only law is being "lawless" and where my integrity as a person is in a state of jeopardy at all times?
I feel I don't have a place where I can truly call my home. Am I homeless? Does anyone else feel the way I do? Or am I lonely in my struggle to find a place I can truly call home?