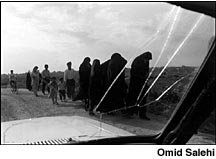 Beyond imagination
Words fail to capture the despair
November 30, 2001
The Iranian
Email from Farnaz Fassihi to her friends. Fassihi is in Afghanistan reporting for the New Jersey Star Ledger.
Our first impression upon leaving the Iranian border of Dogharoun and entering Afghanistan was that we had passed through the gates of Time.The road to Herat is non-existant and the phrase "in the middle of no where" was invented for this passage.
For four hours the three-car convoy carrying us and a group of other foreign journalists drove through a bumpy, rocky and dusty field where other cars had paved a make-shift road. At times the cloud of dust was so intense that we could not see even 10 feet ahead of us.
On our way, we passed villages made of mud huts. Its locals were sitting aimlessly around. There is no electricity and a water well is miles away. It is not possible to articulate or even write a story that will do justice to the misery here. Words and images fail to capture the intensity and the despair. It's beyond what any one of us reporters ever imagined.
Along side the road were dozens of little children, some as young as four and five, who waved at the cars carrying foreigners and begged for food. They cried and pleaded for help. They didn't have shoes. They did't have warm clothes. Along the same road were also many crippled, arm-less and leg-less men begging for just the same and shouting at our cars to stop.
Then as we thought we've seen the worst, we passed by Maslakh. The world's largest refugee camp with 200,000 displaced people awaiting help. The lucky ones are sheltered in mud houses and tents set up by the UNHCR. But there were at least a thousand people who had neither. They had simply camped on the bare ground.
Today, a five-year-old girl died in front of the AP reporter who was visiting the camp. The Red Cross says every morning they find dead bodies of people who did not make it through the deadly cold night. Many are dying from hunger because relief efforts have not fully been resumed yet.
Alas, we arrived in Herat and the city is slowly coming to life. It's uplifting to see how happy people are at the downfall of the Taliban and how quickly they are trying to resume to normalcy. Today, Herat held the first ever election in Afghanistan in 30 years and it was a nice thing to see.
However, every time we step outside endless little faces gather around us and ask for help. Women cling to us and beg for us to take down their names in case aid was on the way. They are still clad in burqas but they walk around alone, shop and go about their daily routines.The men are either clean-shaved or have trimmed beards. There's been a line in front of the barber shop around the corner every day.
As for us, when you see how desperate people are living, you are ashamed to complain about the lack of luxury. Our hotel is okay. It's safe. We have two armed guards at the door and a curfew at 8 p.m. when we are not allowed to leave this place. There is only electricity a few hours in the evening.
At night it gets very cold. There are small oil heaters but they don't do much. No warm water to speak of and well, it's not exactly clean here either. We are already sick and on anti-biotic medication despite not eating nor drinking anything. I've brought canned food from Iran and the hotel has bottled water and fresh bread.
Despite all this, I'm glad to be here. Before coming I was excited about the assignment , adventure, my career and bullshit like that. After two days here and this endless visible misery the only reason I can think of for being here is to tell stories that hopefully will help these people.
God help us.
- Farnaz