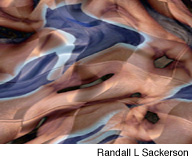 Simply complicated
The one thing I wanted most -- a tormenting love affair

By Azam Nemati
March 4, 2002
The Iranian

It is a quiet and peaceful early Friday morning. I have just left a big party which reminded me of the elaborate ones in my college days in the 1970s in Iran. I am driving along the ocean feeling the crisp breeze, looking at the flickering lights. As always, I have Iranian music playing in the background.

I am savoring the solitude and listening to "Sedaayeh baaroon" (sound of rain) by one of my favorite singers, Sattar. The words take me back in time, to 26 years ago. I am 20 years old again and driving back from a party early in the morning. Memories and feelings of that period are so vivid and real.

I remember there had been many college boys at the party (mostly seniors, a few years older than myself). Despite being the life of the party and being surrounded by them, I felt alone -- as usual. Somehow none of the boys met the characteristics of what I was looking for in order to have a torrid affair with. I wanted to have a tormenting and fiery love affair, a tragic and passionate one with an unhappy ending.


Tragic love stories have always touched my soul. I wanted to write the ultimate love story after experiencing it. I had observed some of the boys who met my physical requirements which meant being tall and attractive. However, my tormenting love affair had to include a very important ingredient, passion for Persian poetry.

The few who knew poetry were short and not physically my type. So once again I left a party without anyone stealing my heart.

I remember it was a beautiful morning in early April. The spring morning was filled with the smell of blossoms and the very same song, "Sedaayeh baaroon", was coming out of the car speakers. I was talking to God again and questioning him. Why was it that He could not give me the one thing I wanted most -- a tormenting love affair? With a man who would make my heart beat violently just by his voice or his eyes.

On the surface it looked like I had it all. I had the looks, my own place, and a car, which was a big deal in those days. Being outgoing and intellectual was the icing on the cake. Men approached me everywhere I went -- from volleyball courts to poetry functions. But, I found them all too serene and predictable for my volatile and unpredictable temperament.

I was challenging God and trying to make a deal with Him. I told Him I would defy rules, break all barriers and take chances. I would risk it all no matter what the outcome, if only God would bless me with a tormenting love affair. I meant all that I said.

Time and time again I defied convention in all matters of life and forged ahead with my heart's desire. I have no regrets.

Now, on this cool December morning, nostalgia has consumed me again. But despite the longing in my heart for that passionate affair, I have changed some of my requirements without realizing. Now I imagine the love of my life (still tall and handsome) as serene, even tempered and predictable. No surprises and no emotional roller coaster rides. Nothing to analyze or lose my temper for. I want the man to be simple and uncomplicated.

What has happened to me? Have I become the middle-aged conservative, reasonable person I had vowed never to become? Then why do people often tell me I am "too much"?

I had an opportunity to have that explosive and passionate affair complete with Persian poetry and devotion to our heritage; the kind that would have made all the world's romantic people sob.

One of my friends said: imagine the union of two brilliant, extremely passionate and crazy Iranians with intense love for their heritage and literature yet so different in their political views. There will be fireworks everywhere.



She was right. In good times it was all about reading beautiful Persian poems and the feeling of being at home in Iran, or walking along the shores, watching the sun rise, and breathing in the fragrance of orange blossoms with him. In bad times, it was pure hell, exchanging volatile and hurtful words -- words that rip the heart and agonizes the soul.

These were all through long phone conversations and feverish writings. Had we met in person, the torment would have been unbearable. It would have been the true love/hate affair. But I could not cope, and I walked away. I could not take the wild and exciting emotional highs and its crushing lows.

Was I brave and smart? Or a coward? Have I changed, or has living away from my motherland drained my energy? Is loving a predictable and serene person just as exciting as loving one with a volatile and unpredictable temper? Should I accept the thought that perhaps I am wiser now? If so, why is it that in my heart I am not convinced?