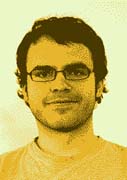 The real Iran
How weblogs can change the way the world sees Iran
By Hossein Derakhshan
October 1, 2003
The Iranian
Having lived almost all my life in the Islamic Republic of Iran, I've always wanted to see the West and why clerics in Iran dislike its values and lifestyle so much.
Before I came to Toronto as an immigrant in December 2000, I was working as a tech journalist in one the so-called reformist papers in Iran. A daily column named "Internet" with a simple, straight-forward language had attracted a lot of readers whose emails were making my yahoo email account full every day. The pleasure of helping people discover new things and cross new borders is the most satisfying experience anyone can have.
But then everything suddenly changed when the hardliner-backed judiciary closed down all reformist papers in one night.
After a few months, I received a visa to came to Canada, completely disconnected from a rapidly changing society that I cared -- and still care -- about.
You have no idea how much a high-bandwidth Internet connection helped me at the time. Having worked -- or been tortured, better put -- by slow modem connection, I could finally see and feel the real potentials of the Internet. Through all that pointless but joyful surfing, I came across to a website that later changed my work and life: Blogger.com.
I started my own weblog in Persian a few days later and started to attract dozens of old readers of my column again. Then many people asked me to show them how to do the same thing. On 25 September 2001 I wrote a simple step-to-step guide on how to build a weblog in Persian. Suddenly in less than a year, weblogs became one of the hottest issues among Internet savvy Iranians all over the world.
Weblogs are powerful bridges in a widely divided society. Bridges between immigrants and homeland inhabitants, girls and boys, parents and children, and especially between journalists and writers who were not able to publish their works freely in the politically closed atmosphere in Iran and their thirsty readers.
Tens of thousands of Persian weblogs now attract millions of readers everyday, but the language barrier has prevented the world from seeing the real Iran and its people through them. A quick study of the contents of these weblogs displays a whole new set of attitudes and values among Iranian young people, absolutely different with what mainstream North American media tries to sketch.
New generation of young Iranians are more tolerant, self-expressive, independent, and individualistic than ever. In an increasingly anti-American -- and to some extent anti-Western -- region of the Middle East, where fanatic Islam has the most fans among the middle-class population, Iranians embrace extremely different values than their neighbouring countries, and surprisingly, different than their fanatic leaders.
Salam pax, the Iraqi blogger who was the only genuine and direct voice from inside Iraq during the foggy days of war, could change many people's mind about the life in Baghdad. Now while the Iranian fundamentalist regime is under serious pressure by the world community for it's nuclear program, human rights issues and support for terrorism, Iranians who write their weblogs in English provide the best tools for the world to separate the fanatic government from an exceptionally educated and rational society in the Middle East.
Luckily, aside from tens of thousands of weblogs in Persian, there are over a hundred Iranian weblogs in English, many of them written by people who live inside Iran itself.
As for my own personal experience, I can't be happier as I see thousands of people log on to my weblog (Persian: Sardabir Khodam, English: Editor: Myself) By reading their emails and comments on my posts, I have re-discovered my faithful readers that I had missed for a long time, this time without having a printed newspaper or even someone who edits my writings. I'm my own editor. Every blogger is his or her own editor.
For more on weblogs by iranians check out blogsbyiranians.com.
Author
Hossein Derakhshan, aka hoder, is a journalist and multimedia developer. He has written about techincal and cultural aspects of Internet in Asr-e Azadegan and Hayat-e No daily papers, before emigrating to Canada on December 2000. He now lives in Toronto.
* Send this page to your friends