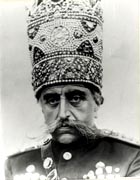 Precious sounds
Voice of Mozzafar-el-Din Shah
December 13, 2001
The Iranian
Attached please find the voice of Mozzafar-el-Din Shah recorded on old phonographs. I think the original recording was done by a French company trying to promote the phonograph in Iran. There is also another piece by Atabak Azam, his minister.
All of this comes from a collection called "Ganje-Sookhte" from which a limited edition was produced in Iran a few years ago. This collection also includes live performances by Mirza Abdollah Khan and Hossein-Gholi Khan the famous Qajar-era taar players.
I also thought that it would be a nice touch if you create a special section on your site for precious sounds, recordings and speeches.
Anyway, I wanted our countrymen to hear this recording >>> Listen here
Sincerely,
From Tourang Birangi