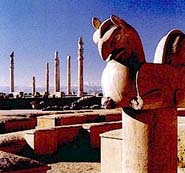 Learning our history in the U.S.
Starting a Persian history class at Maryland University
By Samira Ghazi-Tehrani
January 29, 2001
The Iranian
My friend and I are persuing to establish a Persian history class at the University of Maryland. I thought the best way to reach a large audience is through this magazine.
Of all of the amazing cultures of the world, it is a shame that Persian culture has been forgotten in the United States. Not only does the media portray us in a vile, barbaric fashion, but we ourselves, have also forgotten our heritage. We still have chelo kabob and watch soccer games, but we have forgotten to pass on our culture to our children. We always put it off. But it has been twenty years.
Iranians raised in the United States even the ones that have tried to learn about their culture have been disappointed. Their disappointment stems from the fact that to attempt to study the culture on your own is a very difficult endeavor. It is difficult simply because of the depth, length, and diversity of the history. There are so many tribes, wars, Shahs, and religions, over 2,500 years of history.
Today, even though we are not really taught the history, we still celebrate Norooz, Chahaar-shanbeh Soori, and other cultural celebrations. Although we observe so many Persian celebrations, we don't really know the stories or meanings behind any of them. We simply recognize them as a time to get together with people that we know.
Over the past few years, there has been a growing population of Iranians at the University of Maryland at College Park (probably a few thousand at this point), which has caused a growing need for classes regarding the Persian culture. Currently, the Persian language is being offered as a class at the university, which is wonderful, but there is a need for something more than just the language to be taught.
The Persian community on campus is trying to begin a series of Persian history classes. Over the next few years, our plan is to start three Persian history classes, which will span from before the Achaemanian Empire to modern day, post-revolutionary Iran. But our struggle lies with starting the first class.
After having spoken to the university's history department, we were greatly encouraged to start this class. The department recognizes the growing need for Persian history classes, and is more than willing to help us reach our goal. They are currently looking for professors to teach the class, and are establishing a syllabus of what topics the class should encompass.
The only thing that stands in our way is money. Every cultural group that has classes offered at the university actually started out privately funded. After all, no one will help you until you begin to help yourselves. After the classes have been privately funded for a while and enrollment has been ongoing, then the university will fund 100% of the class. The good news is that it is not very costly to privately fund a class. In order to start up a class, we need to raise $5,000. The university has offered to do the rest, in terms of locating a professor and writing up a syllabus.
Our request is that if you really care about your culture, then please donate to our (and your) cause. $5,000 is really not a lot of money. If every person reading this article could just give $10 or $20, then I am sure that we could raise enough money to start this class at the University of Maryland in the Fall semester.
Just keep in mind that by helping us start this class, you will be paving the way for future Persian classes at the University of Maryland, and other schools around the United States. We have the passion, the know-how, and the plan. All that we need now is the support of our community.
Deadline for Fall 2002 semester: March 1st
(Keep in mind we will continue to take donations for the Spring 2003 semester.)
Please make checks payable to: The UMCP Foundation

On the memo section, please write: Persian history class

Please mail checks to:
The UMCP Foundation
History Department
University of Maryland
College Park, MD 20742