The holy land
I don't read books, but I worship them
January 24, 2002
The Iranian
It sat on the pile of books to the right of my chair. It caught my eye several times a day for two years. The Joke by Milan Kundera. Every once in a long while I would pick it up and read Kandice's dedication, "... here's another book you'll most likely never read."
***
I was talking to an English professor at a party at Haleh's house. I told him I had read not more than 15 books in the past ten years, including what was required in college. "And I publish a magazine. Imagine that!" and I started laughing. The professor was not amused.
***
Bella, Nersi, Zara and I were sitting outside on the balcony. Someone asked about Gore Vidal's Creation. "I read two pages. It was good," I said in all honesty. It was then decided that from then on I would be known as "Johnny Twopage".
***
Art said something really funny the other day. He said whenever his friend is asked whether he has read such-and-such book, he says, "No. I've already read a book."
***
"Did you read that article about Iran in the Times today?" Haleh asked. No, I said, I don't read the paper. "Oh my God! I love the Times. I HAVE to read it every day. Why don't you read the paper?" The articles always repeat the same thing, I said. There's never anything new. So it seems.
***
The last book I read beginning-to-end was Bridges of Madison County, seven years ago (They made a film out of it with Merryl Streep and Clint Eastwood). I'm not ashamed to say that I liked it. And yes, it made me cry.
***
Farzaneh pulled a book from the shelf at Borders books, looked at it and put it back -- in the wrong place. I immediately took it out and put it in the right order. "God JJ... Organize the entire bookstore, why don't you?" Farzaneh quipped. I would, with pleasure.
***
Growing up in Abadan, I loved going to the Annex building library. As soon as I'd walk in, I'd feel like I had entered a sacred place. From the front desk I'd walk fifteen steps to the right, turn left at the window, take another ten steps, and I'd be at the children and young adults section. There were six or seven shelves of books on one rack. I'd spend a good amount of time patiently cleaning up the mess left by other kids and organizing the books in the right order.
***
Before I left Abadan, at 14, I read all the time. Here's what I remember: I loved Jules Verne. Tintin. Call of the Wild. Huck Finn. Qessehaaye Khoob baraaye Bachehaaye Khoob (Good stories for good children). Safarhaaye Sanbad (Adventures of Sinbad). Daddy Long Legs (most incredible book). Detective novels. Aziz Nesin's funny stories. Kayhan Bachehaa weekly and Mosavvar comics. Rostam and Sohrab, Bijan and Manijeh, and other epic Shahnameh stories. Sadegh Hedayat. Samad Behrangi (especially "Oldooz o Kalaaghaa"). A book on Abraham Lincoln's childhood (the footnote on the first page said Abraham was the same as our own Ebrahim). Robinson Crusoe was my favorite. They were all in Persian.
***
"You have no choice. You have to read it," Mr. Hauge said. "It" was Homer's Odyssey. I was a freshman at Thacher, a boarding school in Ojai, 90 miles north of Los Angeles. Mr. Hauge was my English teacher. I had knocked on his door late at night, in tears: "I can't read this. I don't understand it."
***
From the Thacher website:
"Academic excellence is the core of Thacher's program. The rigorous and traditional curriculum is comprised of 75 different courses including required courses, elective courses, honors-level classes, and 17 Advanced Placement courses. Classes are energized by scholarly and enthusiastic teachers and motivated students who respect each other's interests and talents. The average class size of 11 encourages lively intellectual exploration."
***
Mr. Hauge's comments (report card) on my academic performance:
***
Comments (report card) from my other English teacher at Thacher, Mr. Robinson:

***
More comments (report card) from Mr. Robinson: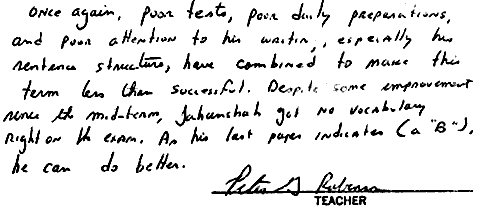 ***
Comments (full text: 1-- 2) from my advisor at Thacher, Ms. Grossman:

***
Okay, my English sucked. But at least Ms. Hoskin, my 10th grade English teacher at Wilson High School in Long Beach, found me "interesting" (report card) :
***
I've joined mail-order book clubs several times, and bought numerous books, including Homer's Odyssey. I bought them always feeling certain I would read them. I never have. I haven't even opened the Odyssey.
***
It happens every time I get close to a large number of books. Like last weekend at the Barnes and Noble in Berkeley. I was killing time, waiting for a movie to start at the nearby theater. I zig zagged the store a dozen times, gazing at books about every subject under the sun. I had the incredibly comforting feeling that I was in the holiest place on Earth.