October 7, 2004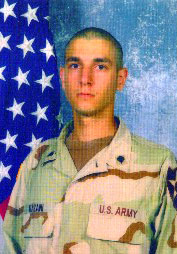 From: National Iranian American Council, NIAC
FIRST IRANIAN-AMERICAN SOLDIER KILLED IN IRAQ: SOLDIERS BREAKS DOWN STEREOTYPES OF LOYALTY AND PATRIOTISM
"Be a lamp, or a lifeboat, or a ladder.
Help someone's soul heal."
- Rumi

Babak Bagheri
NIAC Correspondent
Washington DC, October 7, 2004 -- The war in Iraq is on the mind of all Americans, particularly the Iranian-American community. Daily reports on the loss of American soldiers and Iraqi civilians, as well as the disturbing abuse of prisoners, brings about an unrelenting sense of loss and grief. Nevertheless, since the violence is so far from America's shores, the war may appear distant or slightly unreal for some Americans.

Unfortunately, the Iranian-American community, and one Iranian-American family in particular, was given a serious reminder in late August of just how close to home this war is being waged. On August 27, Army Specialist Omead Razani, 19, a medic in the US Army, was killed in Habbaniyah, Iraq.

By bravely rushing into battle to treat the wounded, Omead Razani gave up his life while attempting to save the lives of his fellow soldiers. Omead became the first Iranian-American soldier to fall in Iraq.
Who's your Iranian of the day?
Send us photo