April 9, 2004
Chaakeram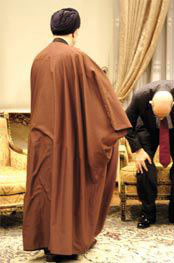 Director General of the International Atomic Energy Organization (IAEA) Mohamed ElBaradei bows to greet President Khatami in a meeting in Tehran. (Photo from Shargh newspaper). What would be a funny caption for this photo?
1
El-Baradei: "Here is a big fart in your honor, Mr President."
Khatami: "Pooh! You ARE a Weapons of Mass Destruction expert!"
-- Parkhash >>> Sad Afarin!
2
Marhamat farmaaeed ,shireh raa zoodtar be sare kachal in haghir bemaalid ke baayad beravam!
-- Sepideh Banihashemi
3
Khatami to ElBaradei: "WATCH OUT!!!! AGHAA MEEKH GOZAASHTAN!"
-- Farzad Elyassi
4
The Director General hurling his lunch after Khatami proves to him that most mollahs don't wear anything under their robe.
-- Hooman
Answers to previous quiz questions >>> HERE
Do you have an interesting question to suggest for this page? Email us
* Send this page to your friends