June 1, 2004
Mobaarakeh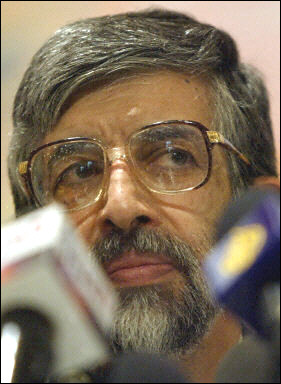 Gholamali Haddad-Adel. He was a political philosopher and has articles in high school text books. Recently, he was selected as the Speaker of Majlis. He was elected to Majlis as a deputy from Tehran. It is noteworthy to mention that the Guardian Council disqualified (rejected) more than 800 thousand votes that were cast in favor of a rival of Mr. Haddad-Adel. His daughter is married to Khamenie's son. Many believe that he is being groomed to be the next president of Iran. By the way, he is the dumbest philosopher I have ever read.
Winner: Jalal Hosseini. Sad Afarin!
Answers to previous quiz questions >>> HERE
Do you have an interesting question to suggest for this page? Email us
.................... Say goodbye to spam!