May 6, 2004
Charge!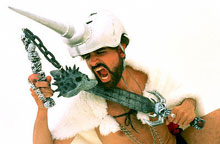 When was the last time Iran started a war with another country? In 1739 when Nader Shah attacked India. If you disagree, tell us.
Winner: Mehran Azhar. Sad Afarin!
Answers to previous quiz questions >>> HERE
Do you have an interesting question to suggest for this page? Email us
.................... Say goodbye to spam!