September 9, 2004
Persophiles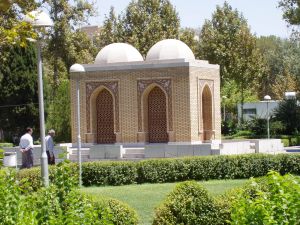 Arthur Upham Pope and his wife Phyllis Ackerman spent their final days in Iran and upon their sad demise, they were provided with a magnificent mausoleum built in Professor Pope Park on the banks of the Zayandeh-Rud River in their beloved city of Isfahan. Pope and Ackerman were pioneers in the study of the arts of Asia, with a paramount dedication to Persian art, history, heritage and culture, and its interrelations. Their efforts led to the establishment in 1925 of the American Institute for Persian Art and Archaeology, which later became the Asia Institute, in New York City and their unique programs of research, publications, exhibitions and educational instruction continued at the Institute and around the world until their retirement >>> Source
Photo from Rick and Kathy Wilson
Winner: Mazdak Heidary-Khajehpour. Sad Afarin!
Be the first to email your answer! The person who wins the most number of daily quizes in a month will be awarded a book valued at up to $50 from Mage Publishers.
Answers to previous quiz questions >>> HERE
Do you have an interesting question to suggest for this page? Email us
.................... Say goodbye to spam!