October 4, 2005
Seeb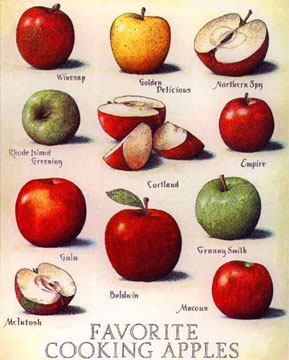 You are in a mivehforooshi. How many kinds of Iranian apples can you name?

based on color:

sib e sorkh
sib e zard (talaaee)
sib e sabz

based on taste:

sib e zemestaani
sib e golaab
sib e holooee
sib e aroos
sib e 4
sib e maykhoosh
sib e sharbati
sib e ghandi (ghandak)
sib e abbaasi

named after a place:

sib e lobnaani
sib e samirom
sib e shemirooni
sib e shafie' aabaadi
sib e damaavandi
sib e khoraasooni

and combination of those like (sib e sorkh e khoraasooni) or (sib e zard e lobnaani)

Winner: Reza sarvari. Sad Afarin!
The person who wins the most number of daily quizes in a month will be awarded a book valued at up to $50 from Mage Publishers and their name will be enshrined in the Column of Champions! Second-place winner will receive the comic book "Rostam tales from the Shahnameh".
Answers to previous quiz questions
Do you have an interesting question to suggest for this page? Email us