December 13, 2006
Atal matal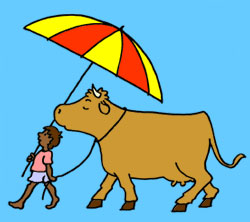 Q: ... tootooleh, gaave Hassan chejooreh.... (complete the song!)
A:
Atal matal tootooleh
Gaaveh Hasan chejooreh
Na shir daareh na pestoon
Gaavesho bordan Hendestoon
Yek zaneh Kordi bestoon
Esmesho bezaar Am Ghezi
Doreh Kolaash Ghermezi
Haachino Vaachin
Ye
Paato
Var
Chin
Winner: Mehran Azhar. Sad Afarin!
Other versions sent by Simin Habibian:
Another version sent by Arvin Harbehband:
Atal matal tootooleh
Gaaveh Hasan chejooreh
Na shir daareh na pestoon
Gaavesho bordan Hendestoon
Yek zaneh Kordi bestoon
Esmesho bezaar Am Ghezi
Yek sang zadam beh bolbol
Sedash rafteh Istanbul
Istanbulam kharaab shod
Dele bibijoon kabaab shod
Haachino Vaachin
Ye
Paato
Var
Chin
The person who wins the most number of daily quizes in a month will be awarded any book from amazon.com with a cover value up to $50 and their name will be enshrined in the Column of Champions! Second-place winner will receive the comic book "Rostam tales from the Shahnameh", a Persian/English wall calendar from Children of Persia, or a gift certificate from eworldrecords.com.
Answers to previous quiz questions
Do you have an interesting question to suggest for this page? Email us