September 12, 2006
Tokhmeh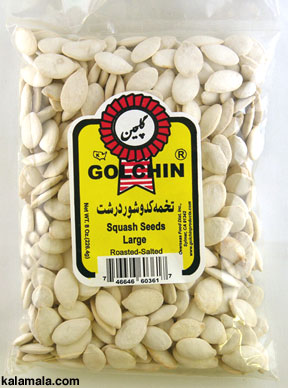 -- Tokhmeh Kadoo:
a. small (reez) which can be eaten with its shell.
b. dorosht (like the pumpkin seeds here.)
-- Tokhmeh aftab gardan (Sunflower, again in both small or jumbo sizes)
-- Tokhmeh kharbozeh (Persian melon seeds)
-- Tokhmeh talebi (Cantaloupe seeds.)
-- Tokhmeh hendevaneh (watermelon seeds)
a. Japoni (Japanese, red)
b. Black or brown (siah, with namk)
c. " " " (siah with lemon and pepper)
d. " " " (siah with golpar and lemon)
e. White (sefeed)
-- Chalghoose (A long dark nut with a taste similar to that of pine nuts.)
All of the above also come in a variety of roasted, raw and/or shelled!
Winner: Zohreh Ghahremani. Sad Afarin!
The person who wins the most number of daily quizes in a month will be awarded a book valued at up to $50 from Mage Publishers and their name will be enshrined in the Column of Champions! Second-place winner will receive the comic book "Rostam tales from the Shahnameh", a Persian/English wall calendar from Children of Persia, or a gift certificate from eworldrecords.com.
Answers to previous quiz questions
Do you have an interesting question to suggest for this page? Email us